Iraq
Iraqi Forces Win Back Key Airbase From ISIL in Anbar Province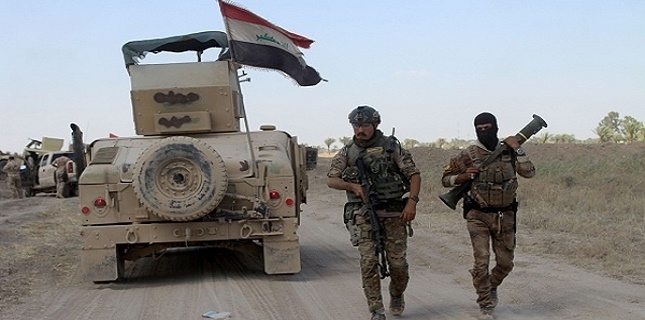 Iraq's joint military forces seized back a strategic airbase controlled by the ISIL in the Western part of Anbar province on Wednesday.
"H3 airbase which is located 40 kilometers from the town of al-Rataba in Anbar is now under the full control of the Iraqi forces," the Arabic-language media quoted senior Volunteer Forces (Hashd al-Shaabi) Commander Nazem al-Jugheifi as saying on Wednesday.
Tens of ISIL terrorists were killed and dozens more were injured in the Iraqi forces' offensive.
In a relevant development on Monday, Iraqi fighter jets pounded and destroyed the buildings of ISIL's financial centers in Anbar province, killing the terrorist group's finance commander and several of his companions.
The Iraqi warplanes hit hard the Anbar province's financial center in al-Qaem region, killing ISIL's top financial official named Abu al-Bara al-Hamdani.
Four companions of al-Hamdani were also killed in the Iraqi airstrikes.
Security sources in Anbar Operations Command Center disclosed that the Iraqi security forces gained access to a weapons and bombs depot of the ISIL as well.
Meantime, Anbar Operations Commander Major General Esmayeel al-Mahlawi announced that the Iraqi security forces killed over two dozen foreign ISIL militants in the Northern part of Ramadi.
Major General al-Mahlawi said that Iraq's joint military forces killed 25 ISIL terrorists in al-Sarsar region in Northern Ramadi.
Also on Saturday, the Iraqi army destroyed several tunnels of the ISIL terrorist group as well as a bomb-laden factory in Bu Obeid and Bou Bali regions in the Eastern part of Ramadi.
The Iraqi army discovered ISIL's tunnels and destroyed them in Bu Obeid and Bu Bali regions.
In a statement on Saturday, the Iraqi army announced that three ISIL terrorists who had hidden inside the tunnels were killed and their hideout in Bou Ali Jassem area came under CH4 fighter jets' raids.
Meantime, the Iraqi army's drone attacked the ISIL's gathering in the same area which resulted in the death of tens of ISIL terrorists and destruction of a military vehicle and an arms depot.