Iraq
ISIL executes 17 fishermen in Mosul, Iraq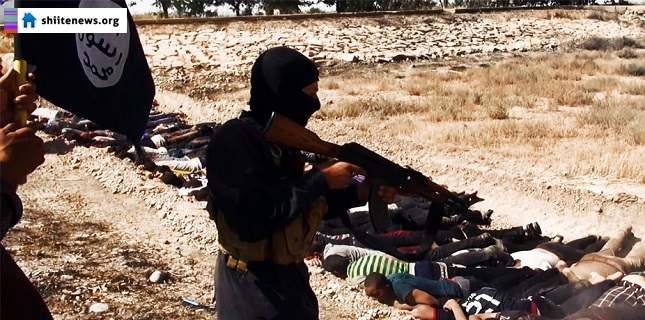 The ISIL Takfiri terrorist group has executed seventeen fishermen in the militant-held city of Mosul in northern Iraq.
The Kurdistan Democratic Party (KDP) spokesman in the northern city of Mosul, Saeed Mamouzini, said in an interview with Iraqi News online newspaper on Wednesday that "the penalty decision came because of the fishermen refrain from granting a share of fish to ISIL militants."
The ISIL terrorists also executed over a dozen of their own men, Mamouzini added.
The terrorist group "executed 14 of its gunmen in Mosul, including two Kurdish men, on charges of not abiding by its decisions."
Meanwhile, Iraqi forces killed 19 ISIL terrorists and destroyed their base in an aerial bombardment in Anbar province, read a Wednesday statement by Iraq's Joint Operations Command.
"Our security units continue in Anbar liberation operation, which was launched at dawn on Monday, and achieved ground gains in some areas… We inflicted upon the enemy great losses in lives and equipment," the statement further read.
ISIL started its campaign of terror in Iraq in early June 2014. The heavily armed militants took control of Mosul before sweeping through parts of the country's heartland.
The terrorist group has gained notoriety for its barbarity, heinous atrocities, and sacrilegious acts. The ISIL militants have been accused of committing gross human rights violations and war crimes in areas they control in Syria, Iraq, and Libya.
Iraqi soldiers, police units, Kurdish forces, and Shia and Sunni volunteers are engaged in battles with the terrorists to drive them out of the areas they have under control.