Iraq
Iraq sentences 24 to death over Tikrit massacre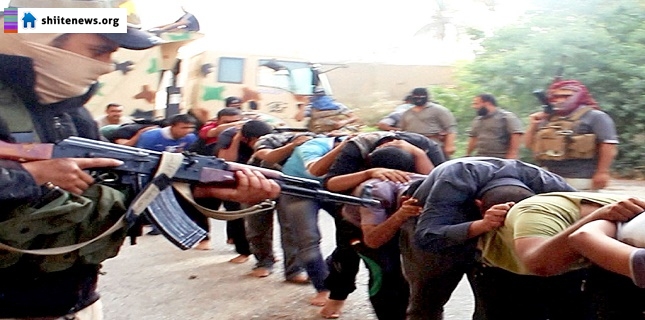 An Iraqi court has sentenced 24 men to death by hanging in connection with the mass execution of hundreds of soldiers last year by the Takfiri ISIL terrorists in the northern city of Tikrit.
On Wednesday, the central criminal court in Baghdad handed down the death penalty to 24 militants over the massacre at a military base in Tikrit, located 140 kilometers (about 87 miles) northwest of Baghdad.
Four other defendants won acquittal due to lack of evidence.
Relatives of the carnage victims were holding up pictures of their loved ones in the courtroom during Wednesday's prosecution .
The ISIL terrorists captured over 1,560 Iraqi Air Force cadets, mostly Shia, in an attack on the Speicher camp in Tikrit on June 12, 2014, when they overran the hometown of slain Iraqi dictator Saddam Hussein.
ISIL later posted images and video, showing its elements killing Iraqi soldiers after forcing them to lay face-down in a shallow ditch.
The Iraqi government blamed the slaughter on both the Takfiti ISIL militants and members of the defunct Ba'ath party.
Units of Iraqi government troops, backed by volunteer forces, managed to retake control of Tikrit in late March.
The northern and western parts of Iraq have been plagued by violence ever since ISIL began their march through Iraqi territory in June 2014.
The terrorist group has been committing heinous crimes against all ethnic and religious groups, including Shias, Sunnis, Kurds, Christians, Izadi Kurds and others