Iraq
Shiite scholars never call for sectarianism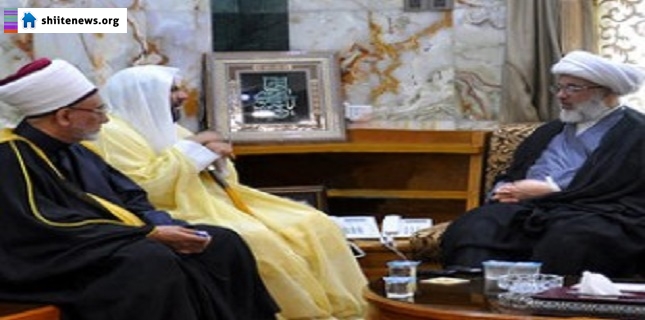 Al-Anbar Friday Sunni prayer leader and preacher, sheikh Jelal Esh-Shemri, related on the Islamic supreme religious authority's role, through the Friday's Shia prayer speeches as patriot and the supporter of Iraq's unity.
He also described the Secretary-General of the Imam Hussein Holy Shrine as the advocate for Iraq's unity; that was during a meeting they had with sheikh El-Kerbala'i, at Imam Hussein Holy Shrine.
He also asked sheikh El-Kerbala'i, to invite the concerned authorities and those who are willing to help the poor to support the displaced, as soon as possible, reported Imam Hussein holy website.
He said further that al-Anbar has been suffering from injustice and oppression being practiced by some bad elements, and therefore, he said, "Through Friday's Shia speeches, we have realized that the Islamic supreme religious authority never segregates or calls for sectarianism, but we have realized that they only call for the best for all Iraqis equally, without any exceptions."