Iraq
British man given 15-year jail sentence in Iraq over smuggling artifacts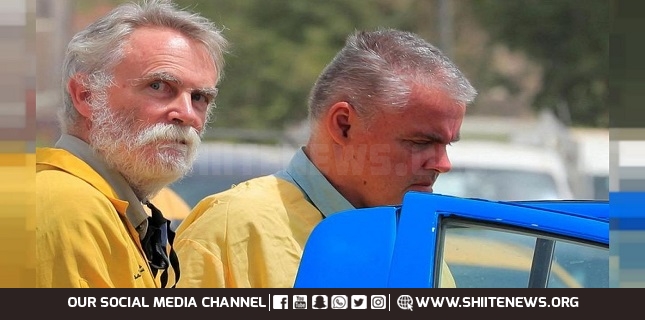 An Iraqi court has sentenced a British man to 15 years in prison for trying to smuggle ancient artifacts out of the Arab country, in a judgment that his family said is "tantamount to a death sentence."
On Monday, the Baghdad Criminal Court handed down the verdict to retired geologist Jim Fitton.
Judge Jabir Abd Jabir found that, according to the government's investigation, the 66-year-old British citizen had criminal intent to smuggle the artifacts that he had picked up and intended to transport them out of Iraq.
A German national tried with Fitton was found not to have criminal intent in the case and will be released.
Fitton and his family have argued that he had no criminal intent.
His son-in-law Sam Tasker, 27, told Britain's PA news agency that his family was devastated at the sentence, and was launching an appeal.
"We are absolutely shattered by this news. For a man of Jim's age, 15 years in an Iraqi prison is tantamount to a death sentence," he said.
Tasker also lambasted the British government for what he said was their "total lack of action in this case" to date.
"We are completely heartbroken that our own best efforts, a strong legal defense and constant campaigning, have led to this outcome," he added.
"I thought the worst case scenario would be one year, with suspension," Fitton's lawyer Thair Soud, visibly shocked, told The Associated Press.
The judge did not consider Soud's arguments that laid out Fitton's ignorance of Iraqi laws and the value of the items he had picked up.
Fitton and Waldmann were arrested at Baghdad airport on March 20 after airport security discovered the items in their luggage. They had been part of a tourism expedition across the country's ancient sites.
In total, 12 fragments of pottery and other shards were found in Fitton's possession by Iraqi authorities, all of them collected as souvenirs, Fitton's family says, during a group tourism expedition to Eridu, an ancient Mesopotamian site in what is now the southern Iraqi province of Dhi Qar. The site is said to be among the oldest sites belonging to that civilization.
Waldman's defense team had said the German tourist had been carrying the pieces for Fitton but that he did not pick them up from the site.
Both men were charged with smuggling based on Iraq's antiquities laws, which potentially could have been punished by the death penalty.
Soud said he intends to appeal Fitton's sentence immediately. It is not clear if Fitton will be able to serve his sentence in his home country, as this would require a prisoner transfer treaty between Iraq and the United Kingdom.
Most Iraqis have described the punishment as just, saying the country has long been a looting ground for invaders and foreigners with impunity.
"Eridu is a UNESCO world heritage site in Iraq and it requires a better site management plan," Ali Makhzomy, the founder of touring company BilWeekend, said. "It is the Iraqi government's responsibility to do that."