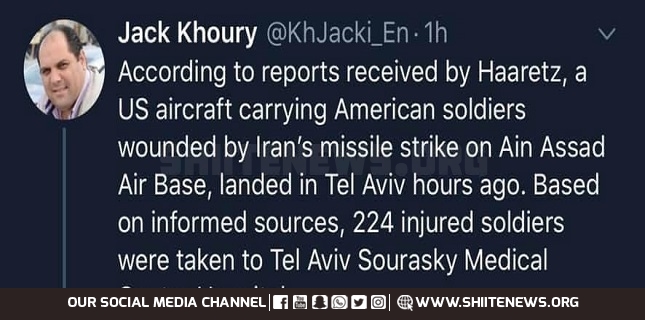 Twitter has suspended the account of a journalist for Israeli newspaper Haaretz after he reported that hundreds of American soldiers injured in Iran's missile attack on a US air base in western Iraq have been evacuated to a Tel Aviv hospital.
"According to reports received by Haaretz, a US aircraft carrying American soldiers wounded by Iran's missile strike on Ain Asad Air Base, landed in Tel Aviv hours ago. Based on informed sources, 224 soldiers were taken to Tel Aviv Sourasky Medical Center Hospital," read a post on @KhJacki_E account on Wednesday.
It continued that Ronni Gamzu, CEO of the hospital, had reassured the US Department of Defense that "medical staff will attend the American soldiers as best as they can."
Jack Khoury's post was, however, deleted and the US-based social media platform deactivated the account.
In a statement to The Daily Beast website, Twitter said the account had been "permanently suspended for violating our platform manipulation policy."
Another Twitter account, @KhJacki, claimed to be the real Jack Khoury writing, "A fake account impersonating me was pushing fake news with my name on it."
In the early hours of Wednesday, Iran launched tens of missiles at Ain al-Assad in Iraq's western Anbar Province and another American military base in Kurdistan's regional capital, Erbil, in revenge for the US assassination of prominent commander Lieutenant General Qassem Soleimani and his companions.
None of the missiles were intercepted and they hit their targets precisely despite a high level of readiness in US bases across the region in the wake of Iran's pledge to take revenge for the targeted killings.
Iran's Islamic Revolution Guards Corps (IRGC) said none of the missiles had been intercepted by the US and that they had precisely hit their targets.
The US claimed that its forces had suffered no casualties, and that the bases sustained "only minimal damage."
Immediately after the Iranian missile raids, reports emerged of an intense American censorship campaign aimed at blocking information on the number of casualties and the extent of damage from getting out.
The Al Mayadeen TV channel reported that the Americans have prevented Iraqi soldiers and intelligence forces from approaching the targeted air base.
Iraqi lawmaker Naim al-Aboudi, of the Fatah (Conquest) alliance, told the TV channel that the American-run section of Ain al-Assad had been completely demolished in Iran's missile strike.
Another Iraqi lawmaker, Hassan Salem, of the al-Sadiqoun bloc, told the Al Forat TV network, that Iran's missile attack was like an earthquake that inflicted damage to the US base and caused fatalities among the American service members deployed there.
The bodies of the slain American personnel had been transferred to Tel Aviv, he added.
The lawmaker further called on the US to let Iraqi intelligence services and media personnel into the base to inspect the damage for themselves and find out the truth about the aftermath of the Iranian raids.