Iraq
Iraq's National Security Council denounces US assassination of Gen. Soleimani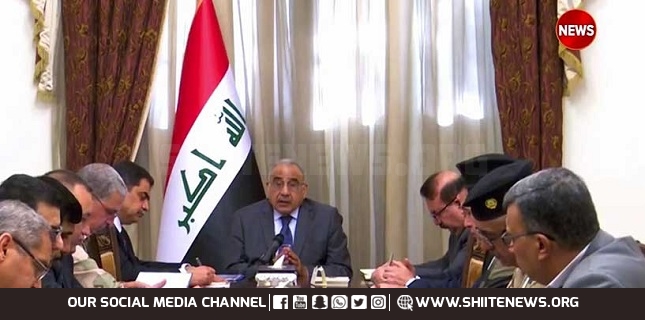 Iraq's National Security Council has condemned a US airstrike that led to the assassination of Lieutenant General Qassem Soleimani, the commander of the Quds Force of the Islamic Revolution Guards Corps (IRGC), in the Iraqi capital Baghdad.
The IRGC announced in a statement on Friday morning that General Soleimani and Abu Mahdi al-Muhandis, the second-in-command of Iraq's Popular Mobilization Units (PMU), were martyred in the US vicious overnight operation.
Late on Friday, Iraq's National Security Council held a meeting, chaired by Iraqi Prime Minister and Commander-in-Chief of the Armed Forces, Adel Abdul-Mahdi, and strongly lambasted the US assassination of the top Iranian general and his comrades near Baghdad International Airport in the early hours of Friday.
The council also discussed new developments in the security situation and related issues in the Arab country in the wake of the US airstrike, which led to "the martyrdom of a number of leading figures."
"The National Security Council affirmed its support for the stance adopted by the commander-in-chief of the armed forces in denouncing and condemning the violation of the sovereignty of Iraq and rejecting the aggression," said the council in a statement.
It also said that the council discussed the conditions under which the US forces should be present in Iraq.
Prime Minister Abdul-Mahdi also called on the parliament to hold an emergency session in order to "organize and unify the Iraqi official position and take the necessary measures and decisions to preserve dignity, security and sovereignty Iraq," the council added.
Earlier in the day, Iraq's Parliament Speaker Mohammed al-Halbousi had denounced the US strike as a "flagrant breach of sovereignty and violation of international agreements."
Following Soleimani's assassination, Leader of the Islamic Revolution Ayatollah Seyyed Ali Khamenei said those who assassinated the IRGC Quds Force commander must await a harsh revenge.
Ayatollah Khamenei added that the "cruelest people on earth" assassinated the "honorable" commander who "courageously fought for years against the evils and bandits of the world."
Iran's Supreme National Security Council (SNSC) also said in a statement that a harsh vengeance "in due time and right place" awaited criminals behind Soleimani's assassination.