Iraq
Iraq unveils new set of reforms to meet protesters' demands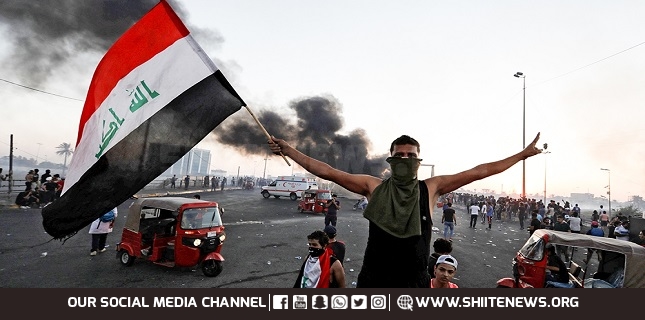 The Iraqi government has submitted a new series of reforms in an effort to respond to protests against corruption, staggering youth unemployment and poor public services, which started in the capital Baghdad last week and then spread to other cities.
On Tuesday, Prime Minister Adel Abdul-Mahdi's cabinet approved the second package of reforms, including distribution of residential plots of land to citizens, expansion of municipal borders of cities, and changing agricultural land into residential.
The planned reforms also contain freezing the law, which allows payment of several salaries to one public servant, providing jobs for young people and activation of the agricultural lending fund.
Additionally, the Iraqi cabinet endorsed a possible study to minimize the age of retirement to give more jobs to the youth.
Early on Sunday, the Iraqi issued a decree with more than a dozen planned reforms, including land distributions, military enlistment and increased welfare stipends for needy families, AFP news agency reported.
Also on Tuesday, Iraqi Shia cleric and leader of the National Wisdom Movement, Ammar al-Hakim, called on the Baghdad government to meet the "legitimate demands" of peaceful demonstrators.
"Each citizen has the constitutional right to peacefully protest and claim his rights," Hakim said, urging both the Iraqi cabinet and the parliament to take "urgent steps" to carry out comprehensive reforms in the country.
On October 4, Iraqi Parliament Speaker Mohammed al-Halbousi vowed to implement plans to generate housing, employment, and health "within a time frame." He supported the protesters' demands, promising that the legislature would work on combating corruption, which he said was "as dangerous as terrorism."
Iraqi officials say there are "malicious hands" behind the killing of both protesters and security forces during the recent spate of unrest in the country.
Interior Ministry spokesman Saad Maan confirmed for the first time on Sunday that 104 people had been killed, including eight security officers, and more than 6,000 wounded in the protests.
Maan said the ministry was working with other government institutions to find out who was behind the killings. According to medical sources, the majority of protesters killed were struck by bullets.
The protests began last Tuesday, with demonstrators calling for better living conditions. The rallies soon turned into riots as some protesters started vandalizing public properties and attempted to enter the Green Zone in Baghdad — which houses government offices and foreign diplomatic missions.
Iraq's most prominent Shia cleric Grand Ayatollah Ali al-Sistani has urged Iraqi security forces and protesters to avoid violence, expressing sorrow over the unrest that has led to several casualties.