Iran
Ahlulbayt World Assembly ARAB, MUSLIMS EXERT PRESSURE ON ISRAEL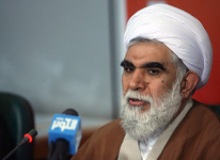 Secretary-General of Ahlulbayt World Assembly Hojjatoleslam Mohammad Hassan Akhtari called on Muslim and Arab states to use all their means to pressure the Zionist regime of Israel to stop its crimes.
"Muslims and Islamic and Arab governments and heads of states should realize that confronting the Zionist regime through reconciliation and dialogue is not possible. They should act wisely and use all their possibilities to exert pressure on this regime," Akhtari said.
He called on all the world nations and states to avoid inaction and indifference to Israeli crimes, and added, "Today, anybody who stays silent or indifferent to the Zionist regime's crimes is a supporter of this regime and is among the enemies of Islam and stands against the oppressed people of Palestine."
Referring to the recent raid by Israel on the Gaza Freedom Flotilla, carrying humanitarian aids to the Gaza Strip, Akhtari deplored the mild reaction shown by a number of countries to the Zionists' crimes, and noted, "They should know that silence and heedlessness towards the crimes committed by this inauspicious regime has caused the increase in such crimes."
The remarks by the Iranian politician came days after Israeli commandos stormed an aid convoy sailing to the Gaza Strip, killed nine human rights activists and wounded more.
Witnesses said over 100 Israeli soldiers supported by military choppers boarded a Turkish ship that was leading the six-ship convoy in international waters.
The dead were Turkish nationals. Some members of the European parliaments, former western diplomats, reporters and human rights activists were among the victims of Israel's brutal act.
Shock and outrage have swept the globe since Israeli soldiers stormed the flotilla. The attack has sparked worldwide protests and reactions not only in Islamic but also in a majority of non-Muslim countries across the globe.