Iran
Iranian Cleric Slams Riyadh's Divisive Moves in Muslim World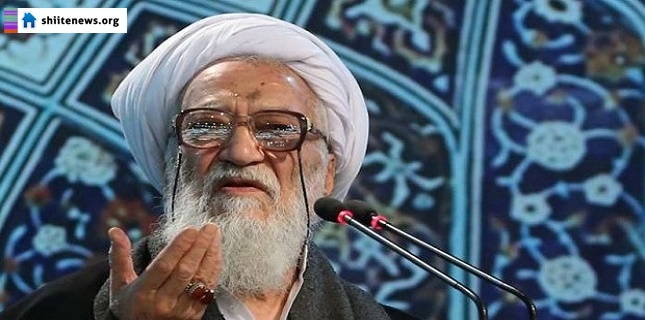 A senior Iranian cleric on Friday lambasted moves by Saudi Arabia to cause rifts among Muslim nations, and warned the Arab country of a prospective political collapse.
Addressing a large gathering of worshippers in the Iranian capital, Tehran's Provisional Friday Prayers Leader Ayatollah Mohammad Ali Movahedi Kermani referred to a recent Organization of Islamic Cooperation (OIC) summit in Turkey's Istanbul, where Saudi Arabia managed to get a number of anti-Iran paragraphs included in the final statement.
"At the OIC Summit, whose aim is unity, you (Saudis) created division," Movahedi Kermani said.
"You (Al Saud regime) should expect your glass palace to be smashed and collapse like a spider's house," he went on to say.
In its final statement, the OIC accused Iran of supporting terrorism and interfering in the affairs of regional states, including Syria and Yemen.
Ayatollah Movahedi Kermani further referred to Iranian Hajj and pilgrimage officials' ongoing negotiations with Saudi officials, who are stonewalling efforts for facilitation of Iranian pilgrims' Hajj pilgrimage, and warned Iranian authorities to make sure the pilgrims' dignity and security will be protected in Hajj.
Tehran has been trying to reach an agreement with Saudi Hajj authorities on Iranians' possible religious visit to the kingdom for this year's Hajj season, irrespective of political disputes.
Iran insists that the safety of travelers to Saudi Arabia must be ensured, given last year's disaster in Mina that killed many Iranian pilgrims in the previous Hajj season.
More than 460 Iranians were among the thousands of pilgrims who died on September 24, 2015, in a crush in Mina, near Mecca, during the Hajj pilgrimage.
The incident marked the worst ever tragedy during Hajj.
There have been doubts about participation of Iranian pilgrims in the 2016 Hajj since tensions between Iran and Saudi Arabia ran high in January following Riyadh's execution of prominent Shiite cleric Sheikh Nimr al-Nimr, and a subsequent attack by outraged Iranian protesters on the Saudi embassy in Tehran, which resulted in the Arab country's decision to sever its ties with the Islamic Republic.
Although Iranian officials criticized the embassy attack and those involved in the attack have been brought to justice, Saudi Arabia has cut off all diplomatic relations with Iran.