Iran
Israel within range of most Iran missiles: IRGC chief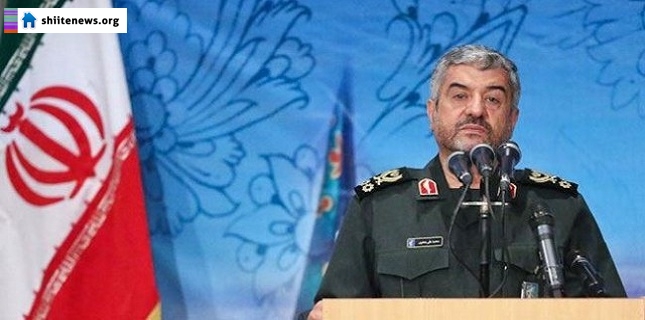 The chief of Iran's Islamic Revolution Guards Corps (IRGC) says the Israeli occupied Palestinian territories are within the range of most of the Islamic Republic's missiles.
"Any one bearing greater enmity towards Islamic Iran will naturally be more fearful of such capabilities and preparednesses," Major General Mohammad Ali Jafari said on Tuesday during the final stage of large-scale missile drills, code-named Eqtedar-e-Velayat.
The IRGC Aerospace Division on Tuesday held the final stage of the exercises by firing ballistic missiles from silo-based launchers in different locations across the country.
The maneuvers are aimed at displaying Iran's "deterrence power" and the country's "full readiness to confront all kinds of threats against the [Islamic] Revolution, establishment and [Iran's] territorial integrity," the IRGC division said.
Shahab ballistic missiles and Qadr long-range precision-guided missiles were successfully test-fired in the maneuvers and hit pre-determined targets in a desert area west of Tehran.
White House spokesman Josh Earnest noted that Iran's ballistic missile tests did not violate Tehran's nuclear agreement with six world powers, which took effect in January.
Jafari further said that defense power and national security are Iran's red lines which are by no means negotiable.
He added that the firing of ballistic missiles was a crushing response to the enemies of the Islamic Republic who have imposed sanctions on Iran's missile program.
The commander added that sanctions have helped the country boost its missile power, achieve self-reliance and manufacture all its missiles.
He emphasized that sanctions and enemies' security pressure have failed to impact Iran's missile power, saying the Armed Forces and IRGC have grown into a unique power in the region.
Jafari said the missile drills were staged to convey a message of security to the Iranian nation and the neighboring countries.
"Iran's security is the security of regional countries and our efforts are in line with establishing security in the region," he added.
Last October, Iran successfully test-fired its precision-guided long-range Emad missile.
In January, the US Department of the Treasury imposed new sanctions against Iranian citizens and companies over the country's ballistic missile program.
Iranian Defense Minister Brigadier General Hossein Dehqan has asserted that the Emad missile is a conventional weapon.
Last December, Iranian Foreign Minister Mohammad Javad Zarif defended Iran's right to carry out missile tests, saying none of Iranian missiles are capable of carrying nuclear warheads.
The Islamic Republic has repeatedly said that its military might poses no threat to other countries, reiterating that its defense doctrine is merely based on deterrence.