Iran
Iranian General Qasem Soleimani attends Bahman 22 rallies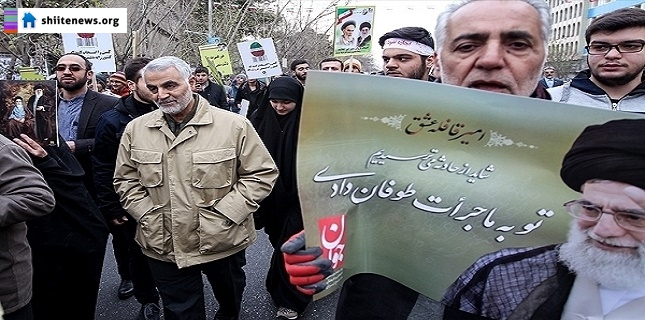 Commander of the Quds Force of the Islamic Revolution Guards Corps (IRGC) Major General Qasem Soleimani joined people in Tehran streets to attend rallies marking the 37th triumph anniversary of Iran's Islamic Revolution.
The occassion was also marked by millions of Iranians staging huge rallies throughout the country on Thursday morning. The even is being commemorated by celebrations held in more than 1,000 cities and over 4,000 villages of the country.
More than 5,200 Iranian and foreign reporters, photojournalists and camerapersons are covering the nationwide event.
President Hassan Rouhani and Louis Farrakhan, the leader of the US-based Nation of Islam (NOI) are due to address the demonstrators in Tehran.
More than 450 foreign guests, mainly scientific and distinguished political figures are present at this year's celebrations from different countries, including, Germany, France, Spain, Belgium, Croatia and Netherland.
Later in the day, a new domestic-made drone named Shahed-129 is to be unveiled in the Revolution anniversary ceremony.