Iran
Iran-Pakistan military power deters foreign plots: Shamkhani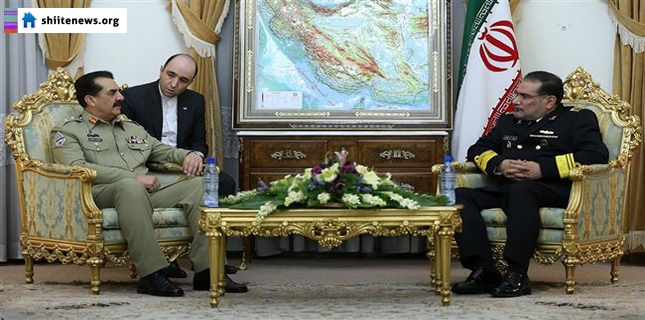 The secretary of Iran's Supreme National Security Council, Ali Shamkhani, says the military power of Iran and Pakistan has so far deterred many foreign plots and mischief.
In a meeting with Pakistani Army Chief of Staff General Raheel Sharif in Tehran on Tuesday, Shamkhani added that Iranian and Pakistani military might is aimed at safeguarding the interests of the Muslim world in favor of regional unity and stability.
He pointed to the presence of armed bandits in the border areas of Iran and Pakistan and said, "These insecurities are completely guided and are based on plans [designed] by intelligence services of certain countries."
Shamkhani also warned against threats posed by terrorist groups to the region and urged all regional countries to strengthen cooperation and make use of their potentialities for combating terrorism.
He added that the escalation of tensions and squandering of Muslim countries' assets would only serve the interests of enemies and bolster terrorist group.