Iran
Iran's security unique around the world: Ayatollah Nouri-Hamadani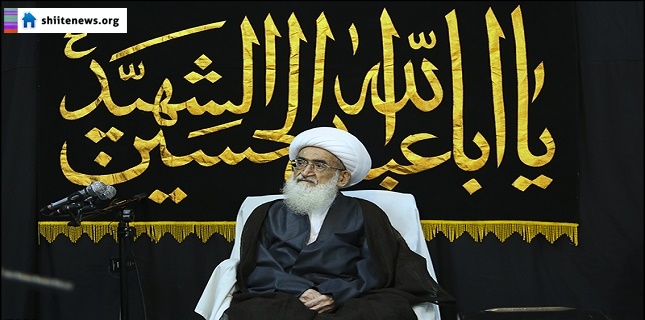 Speaking during a meeting with the families of martyrs and veterans of the Iran-Iraq War in Tehran, Grand Ayatollah Hoseyn Nouri-Hamadani stressed the importance of investment and trade in the Holy Quran.
He continued, saying that God created the world in such a way so that people have the means at their disposal to invest and do business, adding that the Iranian Islamic Revolution has been in need of investment and without it, it would not be able to progress to such a degree. "Investment has saved Iran from the hands of the arrogant and tyrannous powers," he added.
The revered source of emulation said that the Iranian people have suffered from tyranny for centuries, saying that kings and regimes that were against Islam came to power and humiliated and forced the people under their control. From an Islamic perspective, humankind is worthy of dignity and honour and the fate of humanity is not in the hands of people like Naser al-Din Shah, a Qajar-era king.
Ayatollah Nouri-Hamadani emphasized that one of the painful issues facing Iran was the monarchical system which ruled the country for 2,500 years, especially the rule of the Pahlavi dynasty which ruled Iran during much the 20th century. He added that the investment of the families of martyrs and war veterans destroyed this regime.
He said the elimination of the arrogant and tyrannous powers requires investment and this investment is jihad and martyrdom. "All the divine messengers, including the Prophet Muhammad, went to the battlefield for jihad and martyrdom. Their first goal was to educate the people and then fight the tyrants and these believing people formed the army of prophets," he said.
Referring to the martyrs' wills, he said that they travelled to the battlefield to protect the system of Wilayat al-Faqih (Guardianship of the Jurisprudent) and added that these youths did not sacrifice their lives in vain, but for Imam Khomeini and Ayatollah Khamenei and the system of Guardianship.
In conclusion, Ayatollah Nouri-Hamadani stated that the strength of Iran's system is due to these reasons and also because it stands firmly against all the enemies of Islam, including the United States, the United Kingdom, Germany, France and their agents – Saudi Arabia and Takfiri terrorists.
"The security that exists in Iran does not exist any part of the world because Iran's system originates from the Lord and everything that that the people hear from Imam Khomeini and Ayatollah Khamenei are the words that were heard from the Prophet Muhammad in Badr and Hunayn," he said.