Iran
Hezbollah anti-Takfiri bids curb extremism: Iran's Shamkhani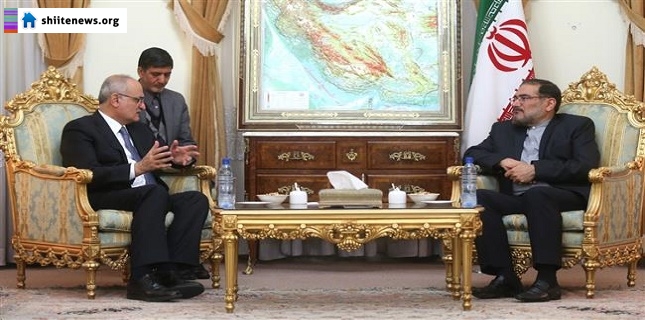 A senior Iranian official says the fight of the Lebanese resistance movement, Hezbollah, against Takfiri groups in Syria has helped curb extremism in Lebanon.
In a meeting with Lebanese Minister of Finance Ali Hasan Khalil in Tehran on Monday, Secretary of Iran's Supreme National Security Council Ali Shamkhani added that the Lebanese army and Hezbollah fighters play a significant role in improving security in Lebanon and countering the Israeli regime as the main threat to the region.
"The proper approach of the Lebanese resistance toward fighting against Takfiri groups inside the Syrian territory has diminished the grounds for infiltration and operation of extremist moves in Lebanon," Shamkhani said.
The SNSC secretary hoped that Hezbollah's fight against Takfiri groups would improve security in Lebanon.
He also expressed concern over increasing terrorist groups in the world and urged the international community to boost genuine cooperation in battling terrorism.
The Lebanese minister, for his part, said all countries need to cooperate to stop financial support for terrorist groups.
Khalil also called for further expansion of relations with Iran, particularly in economy.
Regional states must stop backing terrorists: Larijani
Iran's Parliament (Majlis) Speaker Ali Larijani said on Monday that some regional countries are providing terrorists with weapons, adding that these states must become aware of their mistake and prevent fueling insecurity in the region.
"The settlement of regional issues has turned into a multi-dimensional equation, which is not beneficial to any country," Larijani said in a meeting with the Lebanese finance minister.
He added that Western countries are mistaken to think that they can use terrorism as a means to achieve their own objectives, stressing that the menace has also targeted those countries and caused insecurity for them.
"The Islamic Republic of Iran's strategy has always been based on the establishment of peace in the region and we consider this issue beneficial to the Muslim Ummah and all countries," the Majlis speaker said.
Khalil, for his part, hailed Iran's positive role in regional and international developments and said the Islamic Republic's active role has changed the balance of power in the region.
He hoped Lebanon would succeed in solving its domestic problems in cooperation with friend countries in the region, particularly Iran.