Iran
IRGC General Soleimani Says Still in Quest of Martyrdom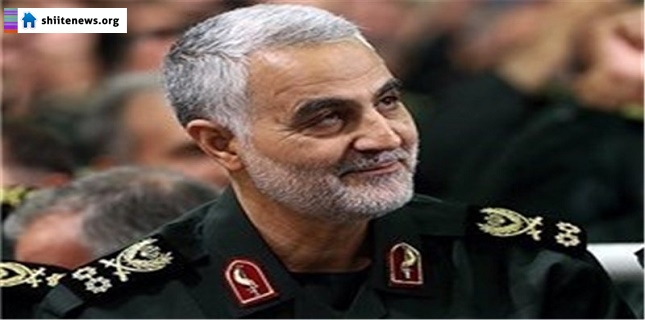 Grinning about rumors of receiving injuries in Syria, Commander of Quds Force of the Islamic Revolution Guards Corps (IRGC) Major General Qassem Soleimani said in Tehran that his fervent wish to be martyred has not still come true.
Speaking in his office in Tehran on Sunday, November 29, 2015, General Soleimani reacted to the rumors about his having got an injury near Syria's Aleppo with a chuckle, saying, "These (injuries and martyrdom) are things that I have travelled plains and mountains to find."
He made the comments in an exclusive interview with Alwaght news in Tehran.
The comments came after reports that the top general has been lightly injured in fighting against terrorists near Aleppo, Syria.
On Wednesday, AFP quoted a security source as saying that General Soleimani "was injured a few days ago" in an offensive in the southwest of Aleppo province.
Elsewhere in the interview, the top general commented on the death of veteran Iranian diplomat, Ghazanfar Roknabadi, in a crush of Hajj pilgrims in Saudi Arabia's Mina, noting, "Martyrdom in Mina and after prayers in Arafat and revelation land for Mr. Roknabadi was a glorious end. He interpreted a new concept from diplomacy by real Jihad for God's sake."
Roknabadi played an outstanding role during Israeli offensive against Lebanon in 2006 (July war or 33Day war) and was a pillar to the country's resistance, General Soleimani added.
The funeral procession of Iran's former ambassador to Lebanon was held in Tehran on Friday.
According to Iranian officials, about 4,700 pilgrims, including more than 460 Iranians, were killed in the crush in Mina on September 24 when performing religious rites.
Many pilgrims are still unaccounted for following the incident that marked the worst Hajj disaster ever.
Saudi authorities have come under fire for their inability to ensure the safety of hundreds of thousands of pilgrims who converge on Mecca every year.