Iran
Iran says Israel involved in Isfahan drone attack, arrests main elements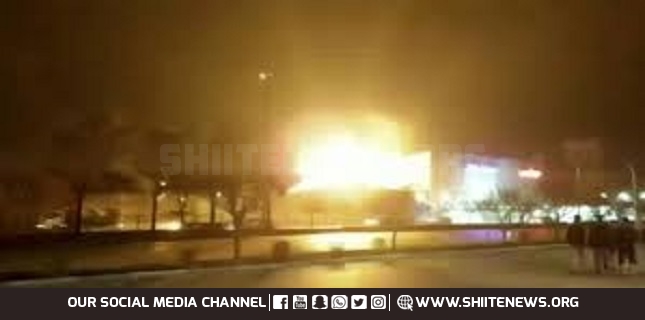 Iranian security forces have arrested the main perpetrators of a recent foiled drone attack in the central city of Isfahan, in which Israeli "mercenaries" were involved.
"The main perpetrators of the unsuccessful attempt to sabotage a Defense Ministry industrial center in Isfahan on January 8 have been identified and arrested," Iran's Intelligence Ministry and the Islamic Revolution Guards Corps (IRGC) said in a joint statement on Friday.
"So far, the involvement of mercenaries of the …Zionist regime (Israel) in that act has been proven," the statement added.
It emphasized that the failed operation was a desperate response to the crushing blows the Israeli regime has suffered inside the occupied territories.
According to the statement, any act of trespassing on Iran's territories would be met with a firm response from the security forces of the powerful Iran. It, however, stressed that the Israeli aggression would not remain unanswered and warned the regime of a "lesson to remember".
As investigations are still underway, more information will be provided at an appropriate time, it said.
In a statement on January 29, the Iranian Defense Ministry announced that one of its workshop complexes in Isfahan had come under attack from a number of Micro Aerial Vehicles (MAVs), but the complex's air defenses successfully repelled the attack.
The ministry underscored that the unsuccessful attack did not cause any loss of life and only led to minor damage to the roof of a workshop. The complex, it added, continues its ordinary operations following the attack.
Iran's Nour News, affiliated with the country's Supreme National Security Council (SNSC), further reported that anti-Iran terrorists operating in Iraq's semi-autonomous Kurdistan region were involved in the drone strike.
It said the terrorists, ordered by a foreign intelligence service, smuggled the constituent parts of a micro aerial vehicle and explosive materials from the Kurdistan region into Iran through far-flung and arduous routes, and handed them over to a liaison in a border city in the northwestern part of the country.
Israel has over the years threatened on numerous occasions to carry out attacks against Iranian facilities and infrastructure, with Tehran casting Tel Aviv's threats as part of the regime's psychological warfare against the Islamic Republic.