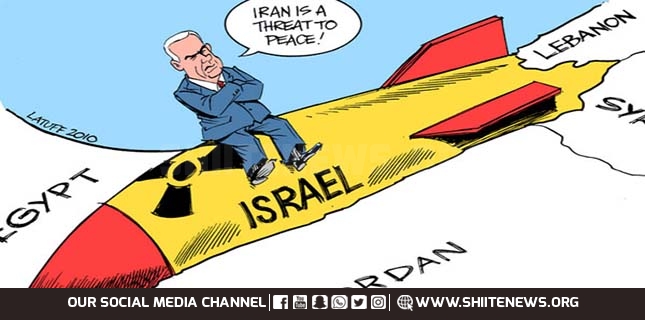 Illegal nuclear power Israel and their allies run campaign against Iran N deal which no saner person in the world can tolerate. 
Energy Minister Yuval Steinitz has come to fore as the latest official of Israel, the squatter of Palestine, to mislead people on Iran deal.
Illegal nuclear power Israel and their allies run campaign against Iran
We live in a world, where racist Jewish ideology of Zionism has squatted Holy Land of Palestine, including Jerusalem (al-Quds and Aqsa mosque).
The world people also know very well without any ambiguity regarding nuclear weapons of Israel, the squatter of Jerusalem.
Notably, Israel remains the only nuclear weapon entity in the Middle East and hampering denuclearization of Middle East for decades.
Ludicrously, Yuval Steinitz or his maniac boss Benjamin Netanyahu lecture Iran on nuclear issue!
Supreme Leader Ayatollah Khamenei has issued a religious decree forbidding nuclear weapons and he leads Iran and Iranian regime follows him.
Therefore, nobody can challenge the credibility of that decree and its compliance. Besides, IAEA too should tell the world why they have failed in denuclearization of Middle East?
Why IAEA don't take action against Israeli nuclear weapons programme and why this media trial of Iran despite peaceful nature of its N-programme?
Lamentably, this is not the only issue but Israel violates humanitarian and international law at will. United Nations and its Security Council should tell the world why Israel's illegal occupation of Palestine, including Jerusalem continue even to date!?
This double standard and selective measures against a Muslim nation-state Iran gives what message to the world.
Besides, this lack of action against racist Jewish Israel also anger the Arabs and non-Arab supporters of Palestine as well.
On the one hand, Jewish racist lobby enjoy super human rights around the world; especially in United States where even non-white Christians suffer from discrimination.
And on the other, Israel remains above the law in all spheres. The Tel Aviv has also squatted Area C of the West Bank.
Illegal Jewish settlements establishment and constructions go unabated!.  And with these violation of humanitarian laws and international law, Israel lecture others!.
How long Muslims and Christians will patiently tolerate this cruelty, atrocity and brutality in world affairs!? Please don't test patience of oppressed humanity.
By Sibte Kamaluddin Khan for SN Eclusive