Iran
Rafsanjani: Iraq can play leading role to resolve regional issues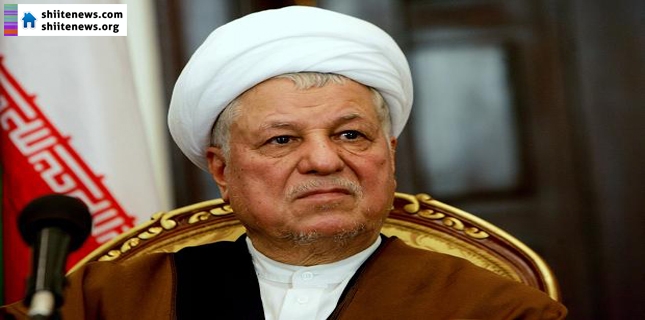 Chairman of the Expediency Council Akbar Hashemi Rafsanjani said on Monday that Iraq can play a very significant role to help resolve issues in Syria and Lebanon.
Rafsanjani made the remarks in a meeting with visiting Iraqi Foreign Minister Ibrahim al-Jaafari.
Cooperation of Islamic countries with Iraq will be to the benefit of the Muslim World and strong relations between nations and Islamic governments, he said.
Some of the countries in the region should be persuaded to accept that presence of terrorists groups will engulf the entire region, he said.
Due to heavy bombardments and shellings in recent years, the country's natural resources were demolished but the ratio of Iraq's oil reserves with the number of population should be regarded as a valuable asset for the era of reconstruction, he said.
He said that the important point is that Iraq can absorb technological know-how and foreign investments.
Coordination between senior Iranian and Iraqi officials helps resolve problems, he said.
Consolidation of relations between Tehran and Baghdad could lead to bolstering relations between countries in the region, Rafsanjani said.
He said that religious and cultural affinities between the two nations and their respect to Islam are regarded as invaluable asset for officials of the two countries to expand relations between the two nations and correct the wrong approach of former Iraqi rulers.
The Iraqi foreign minister, for his part, highlighted his regional tour and called for coordination between regional countries in campaign against Daesh terrorist group.
The Iraqi foreign minister said that all Arab countries have adopted a harmonized approach to deal with Daesh Takfiri group and voiced readiness for partnership in the international campaign against terrorism.
Iraq is to mend fences with the world countries and avoid political struggles with other countries, he said.
On bombardment of Daesh Takfiri group in Syria, he said we should employ all facilities to uproot this violent terrorist group.
Western nationals who joined Daesh Takfiri group will take back violence, insecurity and terror to their countries, he said.
Referring to Iran's experience in campaign against the terrorist groups and its resistance to the economic sanctions, he said Iraq should make use of Iran's experience to broaden relations and cooperation.