Iran
US, Israeli secret services behind 2017 act of terror in Iran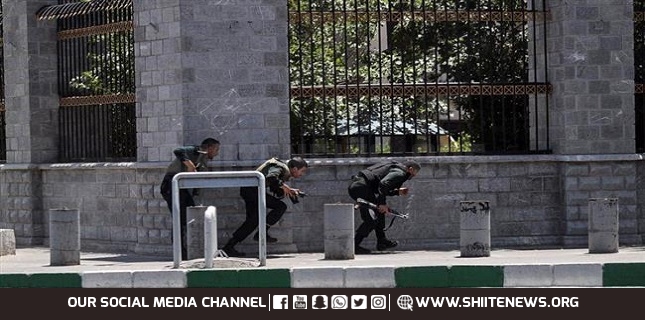 Iran's Parliament speaker says the intelligence services of the United States and Israel were behind simultaneous attacks by the Daesh Takfiri terrorists in the Iranian capital in 2017.
On June 7 that year, gunmen mounted almost simultaneous assaults on the Parliament building and the mausoleum of the late founder of the Islamic Republic Imam Khomeini in Tehran, killing 17 people and injuring more than 50 others.
The terrorist group claimed responsibility for the assaults. Some of the attackers were killed or arrested and dozens more were captured in the following months – many in operations along the borders with Iraq and Turkey.
"Although the cause of that incident was apparently a terrorist attack, it has now been proven that intelligence services of the United States, Israel and some regional countries were behind it," Mohammad Baqer Qalibaf said in an address to the open session of the Parliament on Sunday.
He added that if the perpetrators of those terror attacks were given the opportunity, "they had plans to massacre people on Tehran streets."
Qalibaf noted that the act of terror was a manifestation of the enemies' evil plots against the Iranian nation and showed that if it had not been for the bravery and sacrifice of the military and security forces, the enemies would have committed whatever crime they could against Iranians.
"The martyrs of that incident are national heroes whose blood reminds us all of the value of jihad in the face of Zionist-Wahhabi terrorism," Qalibaf said.
The international community condemned the twin attacks with then European Union foreign policy chief Federica Mogherini conveying her heartfelt condolences to the Iranian authorities and nation.
"Let me start with a world of condolences to the victims of the attacks we saw in Tehran. In these hours, we are following very closely what is happening. It is still very unclear… This is obviously a very sad day again for us anytime there is a terrorist attack anywhere in the world," Mogherini said.
Russian President Vladimir Putin, in a message addressed to his Iranian counterpart Hassan Rouhani, expressed condolences to the Iranian nation and government over the terrorist attacks in the Iranian capital, adding that such assaults necessitated the need for the expansion of international cooperation to fight terrorism.
In July 2018, Iran's media said eight members of Daesh who were involved in the deadly attacks had been executed.
The eight convicts sentenced to death are among a total of 26 people who were arrested in the aftermath of the attacks mainly in the operations along the borders with Iraq and Turkey.
They have appealed to the Supreme Court, which has upheld their sentences.