Bahrain
Bahrainis Continue Nightly Protests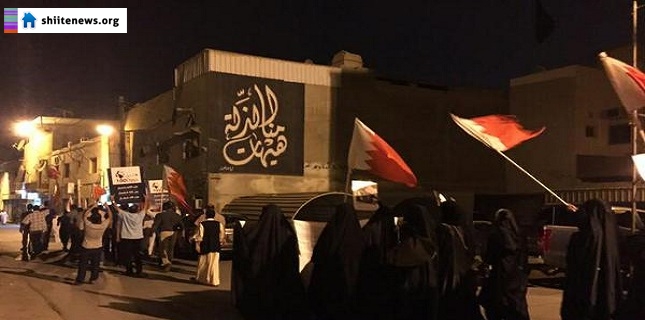 Bahraini people continue street protests at nights to show solidarity with the detained political activists, and stress that they are sticking to the pro-democracy demands of the 14 February uprising.
According to Media reports, Anti-regime protests were held in several areas across the Persian Gulf kingdom on Monday night.
Bahraini People staged a protest in Marouzan district, and carried pictures of the revolutionary martyrs and detainees. Revolutionary scholars, women and men participated in the protest.
People also took to the streets in al-Hamla district, calling for an end to the mistreatment and torture of the political prisoners. They also stressed they will continue their peaceful protests until all their legitimate pro-democracy demands of 14 Feb uprising are met.
In al-Bouri district, people staged a protest in condemnation of the detention of an anti-regime youth by the al-Khalifa regime forces.
Meanwhile, people protested in al-Bilad al-Qadeem, and expressed solidarity with the political detainees and Sheikh Ali Salman, the secretary general of the al-Wefaq National Islamic Society.
The Bahraini regime forces attacked peaceful demonstrators in Satra district, and shot and severely injured one of them.
The Bahraini regime has been suppressing peaceful demonstrations by anti-government protesters across Bahrain since mid-February 2011.
Violence against the defenseless people escalated after a Saudi-led conglomerate of police, security and military forces from the Persian Gulf Cooperation Council (PGCC) member states – Saudi Arabia, Kuwait, the United Arab Emirates, Oman and Qatar – were dispatched to the tiny Persian Gulf kingdom on March 2011, to crack down on peaceful protestors for the Manama regime.
So far, hundreds of protesters have been killed, hundreds have gone missing and thousands of others have been injured by the Bahraini and Saudi soldiers. Thousands of people, including opposition party and religious leaders as well as renowned human rights activists, have been arrested while hundreds more have been sent to exile. All international human rights bodies have condemned the Al-Khalifa regime for exercising extreme violence against peaceful protests.