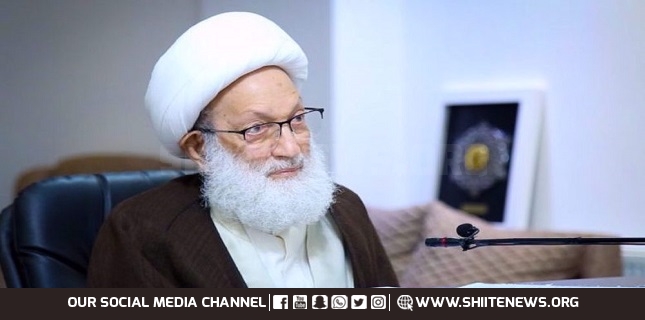 Bahrain's most prominent cleric has blasted some Arab states over normalization of diplomatic ties with Israel, saying that the process runs contrary to the fundamental principles of the Palestinian cause, and poses serious threats to the security, resources and sanctities of the Muslim world.
Sheikh Isa Qassim described struggle against the trend as "decisive," saying, "If the news about transformation of Bahrain into a base for Zionists in the Persian Gulf region turns out to be true or any effort is made in this regard, the engineers of such a plot will face a determined and serious resistance as Bahraini people, thanks to their religious beliefs, will not allow these goals and objectives to materialize."
He added, "Bahraini authorities mistakenly think they would be able to maintain grip on power if they continue to tread the path of normalization, and imprison activists and popular figures. That is why resistance against such an approach is essential and mandatory."
"The perseverance of national campaigners and Bahraini expatriates will set up a major and formidable barrier to the Manama regime's treacherous policy," Sheikh Qassim pointed out.
The senior Bahraini Shia cleric went on to denounce the Al Khalifah regime's attempts to Judaize Bahrain, stating, "State officials are hell-bent on advancing the bids; but popular resistance is building up day by day to thwart the Judaization plans. This is a matter of identity and religion, which cannot be compromised, procrastinated or overlooked."
"The Palestinian issue will always remain the primary goal of Arabs and the entire Muslim world. Normalization is a destructive trend and runs contrary to the goals and ideals of Palestine. Unconditional and popular support for Palestinian resistance groups will therefore foster the spirit of steadfastness, and foil the sinister plots of those pushing for normalization with Israel and their masters," Sheikh Qassim said.
Bahrainis have repeatedly expressed their opposition to the normalization of ties with the Israeli regime by holding demonstrations.
Bahrain's main opposition group al-Wefaq has also repeatedly condemned the normalization move made by the al-Khalifah dynasty.
Bahrain and the United Arab Emirates signed US-brokered normalization agreements with Israel in an event in Washington in September 2020.
Sudan and Morocco followed suit later in the year and inked similar US-brokered normalization deals with the occupying regime.
The move sparked widespread condemnations from the Palestinians as well as nations and human rights advocates across the globe, especially within the Muslim world.
Palestinians slammed the deals as a treacherous "stab in the back" and a betrayal of their cause against the decades-long Israeli occupation of Palestinian territories. Palestinians are seeking an independent state in the occupied West Bank and the Gaza Strip with East al-Quds as its capital.