Bahrain
Sheikh Issa Qassim voices support Bahrain political detainees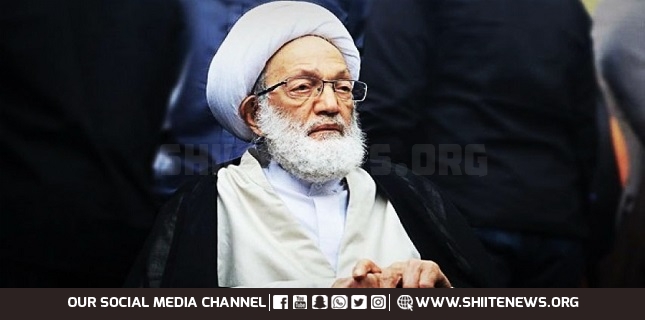 The leader of the Bahraini Islamic Movement, supporting all Bahraini political detainees and human rights defenders, stressed that they are in the hearts of the Bahraini people and that the people will not forget them.
Iran Press/Middle East: According to the Bahrain Al-Youm news website, Sheikh Issa Qassim said in a statement on Friday night, referring to the arrest of "Sheikh Zuhair Ashour", the defender of the rights of the Bahraini people, by the Al Khalifa regime, that he is one of the most prominent people who is after vindication of Bahrainis' rights with their political rights at the most important ones.
Sheikh Qassim warned that any harassment and restriction against Sheikh Zuhair and other political prisoners is harassment and revenge on all the freedmen of the Bahraini people and ignoring their rights. The Bahraini Shia leader stressed the importance of the Bahraini people's efforts to save human rights defenders, and called for the release of political prisoners as the right of all freedom- seeking Bahrainis to the Al Khalifa regime.
The Bahraini regime has arrested Bahraini human rights defender Sheikh Zuhair Ashour, and his family members are worried about his condition because they have not heard from him for about six months. Bahrainis have been protesting peacefully since February 14, 2011, demanding democratic change and political reform, including the drafting of a new constitution, but Al Khalifa forces have violently cracked down on peaceful protesters.
The Al-Khalifa regime has tried to end the popular protest movement by martyring, detaining, torturing, and depriving human rights defenders, political prisoners, and leaders of peaceful protests, but has failed.