Asia
Eminent Indian Shia cleric vows to foil UP govt designs on masjid land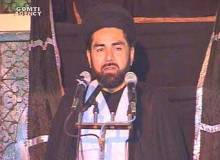 Eminent shia cleric and Imam-e-Juma Maulana Kalbe Jawwad on Sunday alleged that state government is making plans to acquire the land of Shahdra Mosque situated on Mohaan road in Lucknow. The cleric said that the acquisition is being done to facilitate construction of a university for disabled.
"We will protest any such move by the  state government. The masjid's land will not be given at any cost. If the government goes ahead with its plan, an agitation will be launched for protesting the sinister designs of the government officials," said Jawwad on Sunday. The Shahdara Mosque on Mohaan road has a land of 27 bigha and 2 biswa which is registered through waqf deed with the Shia Central Board of Waqf. A university for disabled in the memory of the mother of senior Bahujan Samaj Party (BSP) leader and Rajya Sabha MP Satish Chandra Mishra is is being constructed. Jawwad said that the government is eyeing masjid's land for making it a part of the university.
"The issue had cropped up in 2009 and then I had personally met the Chief Minister (CM) Mayawati and given a memorandum for leaving masjid's land. She had referred the matter to senior cabinet minister Naseemuddin Siddiqui for redressal," he said. The shia cleric also alleged that District Magistrate (DM) AK Sagar and SDM Mahendra Singh were coercing the mutawalli (care taker) of the mosque to part away with the masjid's land. The mutawalli Dr Baqar Mehndi also present on the occasion also testified the allegations. "They are giving an option to keep around four bigha of land with the mosque and leave the rest for university. They are repeatedly calling me up since June 2009 for accepting this offer. However, a mosque's land cannot be sold or purchased so I denied their offer," said Dr Mehndi.
Meanwhile, Jawwad said that soon he will be again meeting the Chief Minister Mayawati for discussing the issue. "It seems that some officials are acting in such a way that muslims are alienated from BSP. Their designs will be foiled and things will be briefed to the CM," he added.
Dr Baqar Mehndi on his part maintained that the Shahdara mosque was registered with waqf in 1968 and the government also issued a gazette in this regard on November 14, 1972. "There is still ample land available adjacent to the mosque which can be used for the purpose of university and the mosque's land can be left out," he added.
Responding to a querry, Maulana Jawwad reacted sharply over Mulayam Singh's mafinama episode. "It is for the public to decide and they will give their verdict. There is no point in reading too much," he remarked.