Asia
Hazara protest in Kabul after project rerouted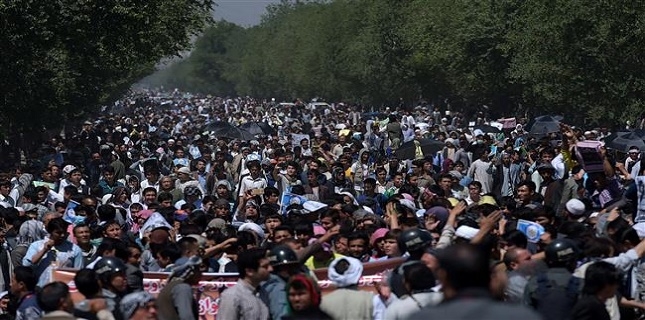 Thousands of Hazara protest in Kabul against a government decision to reroute a massive power transmission line that will deprive an area dominated by the ethnic group of the key infrastructure project.
Security forces reportedly blocked the main crossroads with stacked-up shipping containers on Monday to prevent the protesters from reaching the presidential palace.
Hazara lawmaker Arif Rahmani said the community wanted the power line to cross through Bamiyan, "which has seen no development in 15 years."
"We are demanding justice, not charity," Rahmani said.
The 500-kilovolt TUTAP power line, which would connect the Central Asian countries of Turkmenistan, Uzbekistan and Tajikistan with Afghanistan and Pakistan, was initially meant to pass through Bamiyan.
Kabul later decided to shorten the route and have the power line established via the mountainous Salang pass north of the capital to accelerate the project.
Hazara leaders condemned the decision to reroute the project as a sign of the government's discriminatory policies, and criticized President Ashraf Ghani.
The Hazara Shia Muslim community accounts for about 22 percent of Afghanistan's population.
Its members have been targeted in several large-scale kidnappings and killings across Afghanistan in the recent months, which have prompted demonstrations and sit-ins in Kabul and elsewhere.
On Monday, Afghan authorities warned that the rally could be targeted by militants.
"We respectfully request that our countrymen not allow the enemy to misuse this opportunity and disrupt public security," the Interior Ministry said in a statement.
In November, thousands of angry demonstrators took to the streets of Kabul in protest against the killing of seven Hazara by suspected Taliban militants and government failure to ensure security in the country.