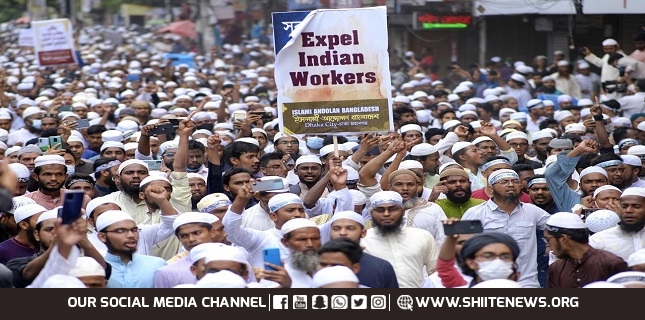 Thousands of people have taken to the streets in Bangladesh's capital to protest offensive comments by two Indian figures against Prophet Muhammad (Peace be upon him), urging Muslim-majority nations to cut off diplomatic ties with India and boycott its products.
The protesters marched after Friday prayers through streets near the main Baitul Mukarram Mosque in downtown Dhaka in protest against the offensive comments.
They also criticized the country's government for not publicly criticizing the comments made by two officials in Indian Prime Minister Narendra Modi's governing Bharatiya Janata Party (BJP).
"The global Muslim community has been united. We ask the whole world to boycott Indian products," said Moulana Imtiaz Alam, leader of Islami Andolan Bangladesh, The Associated Press reported.
In remarks on a TV news debate, BJP's spokesperson Nupur Sharma made inflammatory comments against the Prophet of Islam, which led to widespread condemnation in the country and throughout the Muslim world.
The reactions prompted the BJP to suspend Sharma from the party while distancing itself from her offensive remarks.
The party also expelled Naveen Kumar Jindal, who heads its Delhi media, from the party, after he allegedly posted a tweet about the Prophet but later deleted it. The BJP said Jindal's views on social media undermine communal harmony and are in violation of the party's fundamental beliefs.
On Thursday, Bangladesh's biggest non-political Muslim platform, Hefazat-e-Islam, also held a big rally in Dhaka in protest against the comments.
The leaders of the Islamic organization called on the senior officials of Bangladesh to condemn the comments in an official message to the Indian authorities and ask them to apologize to the Islamic community for the behavior.
As protests erupted throughout the Muslim world, India's Foreign Ministry spokesman Arindam Bagchi said that the views of some members of Indian parties did not in any way reflect the views of the Indian government on Muslims.
Pakistan, Qatar, Kuwait, and some Islamic organizations and groups like the Organization of Islamic Cooperation (OIC) and Yemen's Ansarullah movement have strongly condemned the offensive remarks.
Last week, Iran also reacted to the desecration of Islamic values and summoned the Indian ambassador to convey the Iranian government and people's strong protest.