Articles
Saudi Arabia, increasingly agitated, turns on Turkey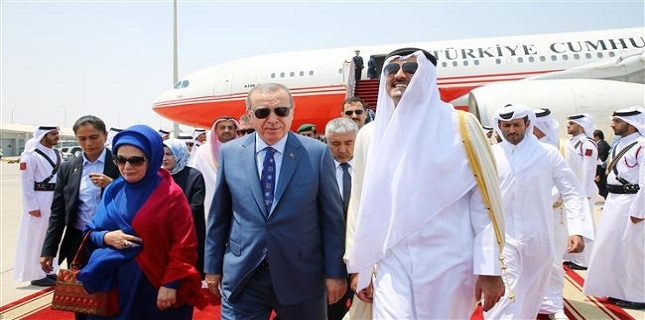 By H. Javan
On December 17, Saudi paper Okaz published an article on Turkish President Recep Tayyip Erdogan. Not the kind the president would take notice of, but not the kind he would appreciate, either.
It was a blistering, particularly personal attack on the Turkish head of state. It said President Erdogan had "unthinkingly" supported the Muslim Brotherhood movement and had "provoked" Persian Gulf countries by supporting Qatar in a dispute with Saudi Arabia and the United Arab Emirates. It questioned the Turkish leader's "wisdom" and essentially accused him of expansionism by seeking to "revive" the Ottoman Empire. At one point, it said Turkey was after "eliminating" the Arab nations of the Persian Gulf.
Just a day earlier, Emirati Foreign Minister Abdullah bin Zayed Al Nahyan had posted a tweet in which he had attempted a personal attack of his own on the Turkish leader.
Foreign Minister Abdullah bin Zayed had retweeted a post that claimed Fahreddin Pasha, an Ottoman governor of Medina — in today's Saudi Arabia — had brutalized local Arab residents during his rule in the city in the early twentieth century.
"These are Erdogan's ancestors and their past with the Arabs," the original tweet said.
*
Tensions between Arab governments, led by Saudi Arabia, and Turkey are not unprecedented. Riyadh and Ankara have long differed on how to treat the Muslim Brotherhood, an Islamic grassroots political organization that dates back decades. Turkey, a republic, has historically supported the movement; monarchical Saudi Arabia has despised it.
Saudi Arabia watched with anxiety when Egyptians rose up against long-time dictator Hosni Mubarak in 2011 and went on to vote into office Mohammed Morsi — the Brotherhood's favored candidate — as the country's first-ever democratically elected president a year later. Still another year later, with Riyadh's blessing, a coup d'état was staged against Morsi. The general who successfully orchestrated that coup is now Egypt's president. Ever since, President Abdel Fattah el-Sisi of Egypt has been cracking down on the Brotherhood, much to Turkey's chagrin.
But in the past, Saudi Arabia and Turkey had by and large exercised restraint, taking care not to go too public with their mutual grievances. That changed in June this year, when Saudi Arabia led a group of its vassal states (including the United Arab Emirates) in boycotting and blockading Qatar. The presumed logic was that, by threatening to strangle the small Arab country, they could force it into submission on foreign policy matters related to Iran and, remarkably, the Muslim Brotherhood.
Qatar did not yield. And a few days into the dispute, Turkey stunned the Arab world by not only verbally backing Doha but also deploying troops to a Turkish base already built in Qatar. That was an unmistakable even if symbolic signal: Turkey was ready to defend Qatar militarily should the standoff with the Saudi Arabian-led countries turn into an armed conflict. The boycotting countries could not have been displeased more.
Turkey also disappointed the Saudi-led countries of the Persian Gulf when it joined a peace initiative for Syria with Iran and Russia in January. Later, when US President Donald Trump declared in November that the United States would be recognizing Jerusalem al-Quds as Israel's "capital," President Erdogan used his country's rotating presidency of an important Islamic organization to rally the Muslim world and condemn that American measure in a high-profile summit in Istanbul. Saudi Arabia, which has been conspicuously muted in its response to Mr. Trump's Jerusalem al-Quds decision, sent a minor minister to the Istanbul summit, which President Erdogan hosted and where Jordanian King Abdullah II was also present.
President Erdogan strikes back
The Qatar episode was a turning point not only in that it sent tensions bubbling to the surface but also in that it seemed to help Turkey grasp a radical shift that had occurred in Saudi Arabia's foreign policy under its new ruling clan.
Awash in petrodollars, Saudi Arabia had long used raw power to exert pressure and advance its political agendas; but since taking power in 2015, King Salman and his son, Crown Prince Mohammed, had overplayed that card. By attempting a chokehold on Qatar, the Salman family was taking it to the extremes. Politically tied to Qatar, and mindful of Saudi Arabia's new radicalism, Turkey was not ready to let that happen.
President Erdogan on November 10 attempted to restrain Saudi Arabia by speaking out against Crown Prince Mohammed, who had earlier claimed he was working to revive "moderate Islam" in Saudi Arabia.
"There is no 'moderate' or 'immoderate' Islam; Islam is one. The aim of using such terms is to weaken Islam," the Turkish president said. "Perhaps the person voicing this concept thinks it belongs to him. No, it does not belong to you." (Saudi kings traditionally call themselves the "Custodian/Servant of the Two Holy Mosques," in reference to Islam's two holiest sites, al-Masjid al-Haram, or the Sacred Mosque, in Mecca, and al-Masjid al-Nabawi, or the Prophet's Mosque, in Medina. Notably, that title was first used by Ottoman sultans.)
Later, the Turkish president also got back at Abdullah bin Zayed, the Emirati foreign minister.
"While Fahreddin Pasha (the former Ottoman governor of Medina) was defending Medina, you miserable ones who slander us, where were your ancestors?" Erdogan said pointedly, without naming Abdullah, whose desert country came into being only in 1971.
A presidential spokesman, Ibrahim Kalin, added context. "It was Fahreddin Pasha who bravely defended Medina against the British plans then."
Little thinking, lots of enemy-making
Saudi Arabia likes to think that it is somehow in charge of taking the leadership when it comes to Arab and/or Sunni affairs. But by taking that ethnic and sectarian line, and by taking it as recklessly as Salman and his son do, it has been alienating fellow Muslim countries — including Sunni states — one after another.
While the practice of hard power remains well in use in today's world, countries have learned to partially legitimize the pursuit of their interests with a balanced foreign policy that also gives room to other countries' interests. Sovereign states have different — sometimes even divergent — interests, but they cooperate with one another on as many occasions as possible — and they pick up dividends in the process. It is mainly practiced through multilateral diplomacy, which was manifested in the Istanbul summit.
With its constant belligerence and extremely self-centered foreign policy, however, Saudi Arabia is driving away too many countries too rapidly.
Riyadh does manage to organize a handful of Arab countries in its immediate orbit against perceived enemies, but they are mostly politically powerless, irrelevant governments like that of the Emirates and Bahrain.
Others — even small ones like Qatar — tend to assert their independence.
And the list of nations repulsed by Saudi Arabia is not exactly short.
Saudi Arabia recently irked Jordan when it arrested a prominent Jordanian banker said to be a friend to and highly regarded by King Abdullah II on a business trip to Riyadh.
Mohammed bin Salman's ludicrous offer to Palestinian President Mahmoud Abbas of what is effectively a mini-Palestinian state and his (unsuccessful) attempt to win Abbas' approval by offering him direct payments of money must have disillusioned Palestinians, too. (Mohammed's efforts to sell that deal were seen as an attempt to please the Trump administration, which has been boasting of pursuing "the ultimate deal" — something that was already dumb enough as it was envisaged and something that has now been put to rest for good.)
For more obvious reasons, Saudi Arabia has also lost Syria, Yemen, Qatar, and Lebanon.
Even Egypt, which under President Sisi is well in Saudi Arabia's corner, has cautioned against the most radical of Saudi Arabia's regional behavior, retaining some degree of independence.
And now, it is Turkey's turn it seems.
Take a look at the names of these nations, and you will notice that all of them are fellow Arab and/or Sunni countries and peoples.
So, Saudi Arabia plays it crude. That is a given. But what does it think it can achieve with a foreign policy belligerent toward almost everyone?
Autocratic leaders tend to find allies in autocratic leaders. That is also true of ineffectual leaders. And thus, Crown Prince Mohammed bin Salman likes to follow in the footsteps of President Trump — to curry favor with his administration, including on the Palestinian issue. (Both Trump and Salman are unguided missiles: one tweets first and thinks later; the other launches wars and postpones thinking. One loses allies by withdrawing from international pacts; the other loses allies by playing them along in zero-sum games. Both are verified bullies.)
But President Trump's attention span — Mohammed bin Salman should know — is short, and the Saudi crown prince will be giving up a lot in relying too heavily on the impetuous American president.
For now, there is little daylight between Mohammed's Arabia and Trump's America. Yet, and because of his miserably crude understanding of statecraft, Mohammed may soon be finding himself badly in shortage of partners that are real and reliable.