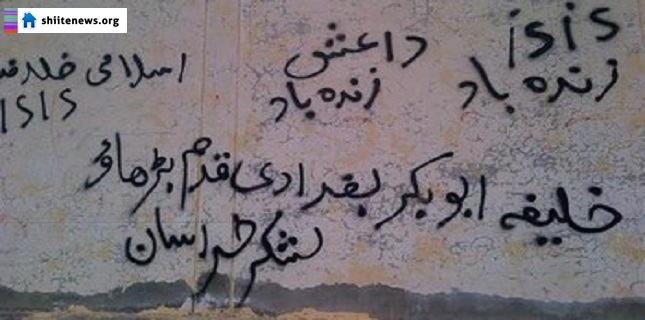 ISIS's operative presence in Pakistan is an overt apprehension. It might exist in the near future if we don't secure our porous borders, contain extremist ideological jihadi groups, impede the external agencies, and most relevantly to improve our security and governing bodies.
The time has come to fill the social gapes by economic engagement and enrich our education system to divert the obsessed youth from sectarian fanaticism. ISISs' probability of existence and their terrorist acts can surely be curtailed by the ongoing operations in Karachi and North Waziristan and our armed forces' prudence, but still our frail social fabric comprising of more than 200 operative religious organisations who have the potency to attract or are attracted by ISIS extreme ideological phenomenon can lead to self-styled ISIS in Pakistan.
The Middle East is bleeding by the sectarian violence created by ISIS, which led the region to complete chaos and complexity. The group originated in 1999 with compatible ideological dimensions under Al-Qaida. By June 2014, ISIS proclaimed itself to be a worldwide Caliphate of Abu Bakr Al-Baghdai (Amir al-Muminin), a mysterious figure, either a cleric or a soldier is not clear. The group renamed itself as the 'Islamic State' or 'Islamic State of Iraq and Syria'.
Their ideology has parallel alignment with the Salafi group with an inclination towards Jihadism. ISIS grew due to the decline of Al-Qaida in Iraq, where the Shia majority strived to form a government after the demise of Saddam Hussain. The US intervention and Saddam Hussain's liquidation pushed Iraq into a political vacuum that paved the way for the extremist groups to enhance their influence with help of sectarian element to mount their authority on other groups.
As a result, regional convolutions enhanced after ISIS captured major northern areas of Iraq leading to severe clashes between Shia-Iraqi and ISIS forces. ISIS attracted much Sunni population in Iraq and included many commanders who were in Sadam Hussains' army and fighters from Afghanistan and Chechnya.
It is said that the group is militarily very well equipped. It possesses the latest technological weapons that may have been stolen from the Iraqi and Syrian army and achieved by some other sources.
The group engages in well-funded and organised vicious attacks and they dishonor the bodies of their victims by exhibiting them on web and social media, and by showing photographs and videos of slaying under the name of Islamic Caliphate. ISIS's activities are funded by different means.
These include heavy ransom, black-marketed oil, looted banks and antiquities from historical sites, and international support.
It controls oil and gas fields in both Syria and Iraq in addition to nearby phosphate mines that developed a lucrative trade. It has been revealed through different sources that sectarian Gulf states are supporting them in terms of cash and weapons with mutual ideological strokes, while, it is also recognised that some western powers are in their supportive list and have been providing artillery assistance.
ISIS's expansion to Syria and its confrontation against Bashar-Al-Asad confirm its anti Shia stimuli, rather than being against Israel as the major threat to the Muslim Arab world. Israel is the sole beneficiary from the ongoing political turmoil in Middle East.
It is established that ISIS is operative in Israeli bordering areas to make the Muslim states weak internally, and the wounded ISIS predators are kept in Israeli hospitals for treatment.
The hidden external forces have ignited the sectarian element that eventually can bring the Middle Eastern states under self styled or tribal governing bodies, clash between regional major players and lastly Israelis undue expansion in Middle East.
The regional imbalance surely depicts and reveals the global players' intents and their biased attributes that pushed the region into complete anarchism.
A chronological study of ISIS activities reveals the intimidation that the group is engaging in to protect the Zionist agenda.
The ongoing brutality has the potential to spill over in Pakistan but yet there is no evidence of an ISIS-Pakistani leadership.
It has been also claimed that ISIS is recruiting fighters and flying black flags in Afghanistan. Especially in Pakistan, TTP or some other radical groups can be inclined towards its identity of Islamic Caliphate and the religious Pakistani sectarian militant groups may collaborate with ISIS due to their anti-Shia sentiments and their extremist agendas.
There is a dire need to curb extremism with an iron hand once for all and pay utmost attention to improve the security measures by opting the principles of good governance and ensuring social justice for the well being of Pakistani nation.
The writer is a Research Assistant at the Centre For South Asian Studies, University of the Punjab, Lahore.