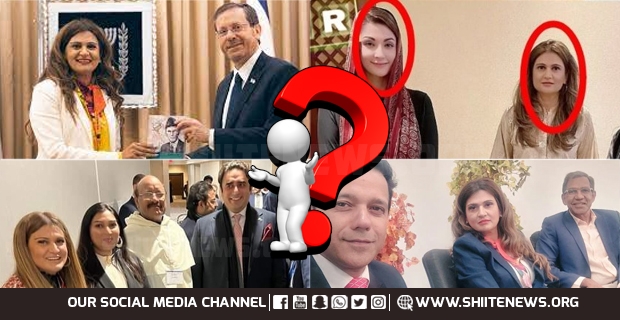 Shiite News: These days, the people of Western countries are raising their voices against the Israeli attacks on a large scale without any religious discrimination and holding rallies involving millions of people to express solidarity with Palestine.
In such a situation, rallies are being organized by Israel in its support, in which some so-called Muslims are also participating.
One such rally was held yesterday in America, in which a woman named Anila Ali, who is quite famous on the Internet these days, gave a speech.
Anila Ali introduces herself in the speech as a Muslim Pakistani friend of the Jews. A video clip of her speech is going viral on the internet and users are asking who is this lady? According to sources, Anila Ali was born in Karachi, Pakistan.
Anila Ali's profile on the website states that she was brought up in a public service family. His great-grandfather was the Prime Minister of Kashmir, and his grandmother was the secretary of the Muslim League.
She is also the author of several books on Islam and women's rights. According to Anila Ali's website, her father was a journalist and diplomat who founded Pakistan's first news agency and authored dozens of books. His mother was a teacher. Anila Ali lives in Washington and is the mother of a son and a daughter.
Anila Ali has made several visits to Israel along with delegations and is a supporter of this Zionist state. His recent visit to Israel, which took place during the previous PDM regime, is also much talked about on the internet.
In this visit, a Pakistani Jew was also a part of this delegation and he went to Israel on a Pakistani passport. This Pakistani Jew was given special permission to go to Israel on a Pakistani passport during the Tehreek-e-Insaf regime.
Sources said that Anila Ali has also visited Pakistan several times and has been trying to lobby for Israel. Aneela Ali has held several meetings with scholars and religious leaders in Pakistan, under the guise of interfaith harmony in Lahore, Aneela Ali has also held several meetings with Christian, Hindu and Muslim leaders.
She has come to Pakistan on a special mission of Israel. Allowing Anila Ali to work freely for Zionist in Pakistan is also a question mark. Now, by participating in the anti-Palestinian protests, Anila Ali has revealed her identity.