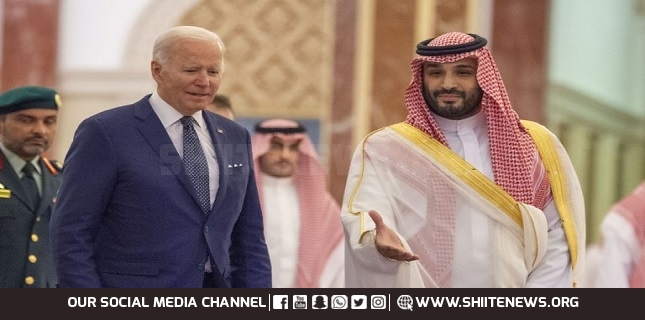 Stop me if you heard this before: Saudi Arabia has been working, through OPEC+ decision to cut oil production last October, to get Donald Trump reelected and pave the way for the Republicans to win the midterms.
Saudi Arabia which has been for decades seen as the US' protectorate in the Middle East, is 'meddling' in the internal affair of the US, which was once the number one country that throws its 'curses' here and there.
Joe Biden's Democrats survived on Saturday a neck-and-neck race to the Senate. The 79-year-old president has been in the latest weeks trying to defend blue seats in midterm elections, in light of several challenges on top of which was the rise in oil prices.
One month before the US midterms, OPEC+, a cartel of top oil producers, decided to cut its oil production by as much as 2 million barrels per day starting in November. The move put pressure on consumer prices ahead of US midterm elections while boosting the revenues of Moscow, thus prompting Biden administration to publicly accuse the Saudi-led OPEC+ group of 'aligning' with Russia.
A Flashback
Since 1945, Saudi Arabia has played the role of oil compensator to the US. Former president Franklin D. Roosevelt had met with King Abdul Aziz ibn Saud on February 14, 1945 aboard a US Navy destroyer in the Suez Canal, and laid a foundation for what was then called the 'security-for-oil', an unwritten pact that would ensure Washington's access to Riyadh's oil reserves.
Through long decades, Saudi Arabia worked hard to keep costs down. It tried to compensate for lost supplies in the aftermath of any change or crisis in the region – like the Islamic Revolution in Iran, the outbreak of the Iran-Iraq war and Iraq-Kuwait war as well as the disruption of the Libyan supply in 2011 and the US' so-called maximum pressure against the Islamic Republic in 2019 which was aimed at getting Iran's oil exports to zero in 2019.
Despite many setbacks – including the 1973 oil embargo and the 9/11 attacks – the US and Saudi enjoyed a close partnership on several levels including oil, politics and security.
Turning Point?
However, and according to many commentators and observers, the relationship between Washington and Riyadh has reached an all-time low in October 2022, with underlying deficit of trust between Washington and Riyadh.
"An unwritten pact binding the US and Saudi Arabia has survived 15 presidents, 7 kings through an Arab oil embargo, 2 Persian Gulf wars, the Sept 11 attacks. Now, it is fracturing under leaders who don't like/trust each other," the Wall Street Journal said in an article last October.
Entitled: "US-Saudi Relations Buckle, Driven by Animosity between Biden and Mohammed Bin Salman," the WSJ quoted Saudi sources as saying that Saudi crown prince, known by his initials MBS, has used to mock Biden in private, making fun of the US president's gaffes and questioning his mental acuity.
According to the newspaper, geopolitical and economic forces have strained relations between the United States and Saudi Arabia. But Biden's feud with Bin Salman has exacerbated the situation, "which is only going to grow worse."
The paper said that the kingdom's 37-year-old ruler has told advisers he hasn't been impressed with Biden since his days as vice president, and much preferred former President Donald Trump.
Earlier in July, Biden visited OPEC kingpin Saudi Arabia as gasoline prices neared record highs and inflation fears were mounting. The US president fist bumped MBS, a move which was seen by Riyadh as an insult to the crown prince. At time, Biden left Saudi Arabia without a public agreement from the kingdom to help out on gas prices.
"Personal Revenge between MBS, Biden"
"Saudi's latest decisions on OPEC+ oil production was just the spark which brought the issue of strained US-Saudi ties into light. However, this affair has many implicit aspects that can never be limited to the oil issue," Israa Al-Fass, journalist and expert on Gulf political affairs told Al-Manar.
Al-Fass said that ties between the US and Saudi have been dominated by a firm principle that links between security and oil, noting that such principle was shaken due to what she called "the revenge mindset" of MBS.
In the wake of the assassination of Washington Post columnist Jamal Khashoggi, then-presidential candidate Biden promised in 2019 to make Saudi Arabia a "pariah" over the kingdom's human rights record.
Biden repeatedly talked about reevaluating and reassessing US-Saudi relations. To his credit, Biden seemed to follow through on this early in his presidency by suspending offensive weapons sales to Saudi Arabia, freezing contacts with MBS, and releasing a brief assessment by the Office of the Director of National Intelligence establishing the Saudi crown prince's role in and responsibility for Khashoggi's death. Biden administration also removed Yemen's Ansarullah from the blacklist, in a step that enraged Riyadh.
In this context, Al-Fass clarified that MBS wanted to "take revenge" over Biden's insults, noting that the issue was not the same during Trump's term.
"Though Trump was openly describing Saudi as the 'milking cow', MBS had no problem as long as the former president was not hurling personal insults at the crown prince," the Lebanese journalist told Al-Manar.
Future of US, Saudi Ties
In an article by the Foreign Policy, Aaron David Miller said that Biden's July's "fist bump was replaced by a Saudi sucker punch" as OPEC+ decided to cut its oil production by as much as 2 million barrels per day.
The writer said it was unclear whether the OPEC+ move reflected a major turning point in US-Saudi relations, noting that the relationship between Washington and Riyadh had many ups and downs—including the 1973 oil embargo and the 9/11 attacks—and survived.
However, "one thing is certain: The days when US presidents dealt with risk-averse Saudi kings dependent on the United States and wary of offending Washington have been over for some time now," Miller said in his article, entitled: "Saudi Arabia Is Not a US Ally Biden Should Stop Treating It Like One."
On her part, Al-Fass stressed that "for sure, MBS, and out of his personal animosity with Biden, worked in a way that harmed the US' interests."
Change in World Order?
Asked whether such developments could lead to change in world order, Al-Fass said: "Actually, the long-time situation of Saudi's ultimate obedience to the US is now over. MBS, through this animosity, contributed to such a change."
The Lebanese expert stressed, meanwhile, that the Saudi crown prince is not an anti-US hero, but rather a "ruler with giant ego."
In the same context, Supreme Leader of the Islamic Revolution in Iran Imam Sayyed Ali Khamenei talked last week about isolation of the United States.
In a series of tweets, Imam Khamenei said that the current world order is changing, elaborating on the elements of the new order which will prevail in the world.
A world that has been drained by curses provoked by the US and its long-time protectorate in the region, Saudi Arabia, is craving for a real change that shall overthrow the entire order and restore justice.
Marwa Haidar