Articles
Red-carpet reception for Nawaz Sharif in Riyadh and King Salman's wishes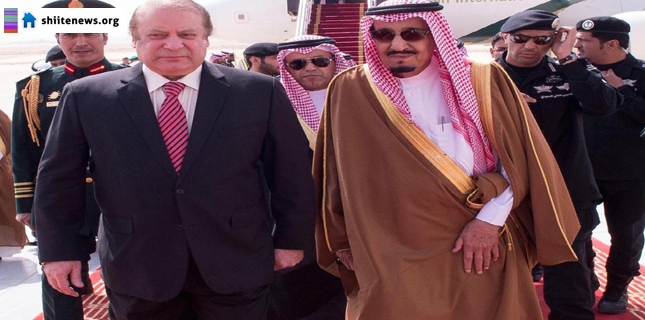 The reception of a foreign guest by a Saudi king at the airport rarely happens. It was a development that was particularly noticed by Pakistani media that underlined there were reasons behind such a warm welcome.
According to Pakistani daily, Express Tribune, Riyadh intends to put Islamabad under pressure to dispatch more military forces to Saudi Arabia with the aim to suppress internal opposition and confront external threats, particularly posed by the infiltrating ISIS terrorist group.
Meanwhile, former Pakistani National Security Advisor Mahmud Ali Durrani has urged Nawaz Sharif administration to be cautious in development of relations with Saudis to avoid its adverse consequences.
Riyadh, considered a major sponsor of ISIS and a country that spends a chunk of its oil income to finance the terrorist groups in Syria and Iraq, is now extremely worried if it turns to become a victim of the poisonous snake that has nourished in its sleeve.
Nawaz Sharif's current three-day visit, officially invited by the Saudi King, is his fifth since he became prime minister less than two years ago.
Saudi Arabia is one of the most important allies of Pakistan amongst the Arab countries in the Middle East. In spite of that, many Pakistani politicians and parliamentarians are convinced that Saudis financially support extremist groups in Pakistan secretly causing instability and other problems in that country.
In recent months, Pakistani public opinion and media have increasingly and unprecedentedly criticized Saudis for funding terrorism and extremism in their country.
According to the recently disclosed reports, some 100,000 Pakistani military men are already stationed in Pakistan to provide security in the oil-rich country.
Several bilateral military agreements have already been signed between Pakistan and Saudi Arabia according to which Islamabad would provide Riyadh with military equipment and training.
In recent years, Saudi government has been faced with numerous social uprisings throughout the country. A major part of the Saudi community lives in absolute poverty and is deprived of its abundant oil income.