Articles
Bin Salman Practices Unprecedented Brutality against Opponents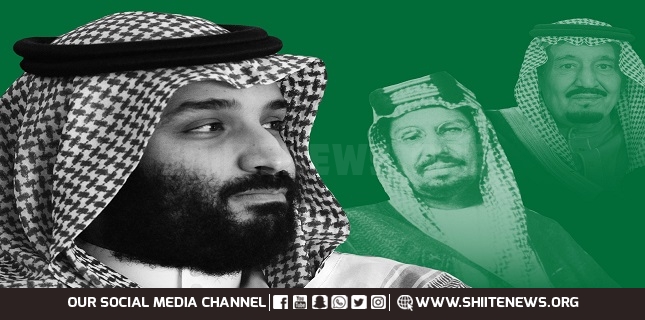 In report, by Jacob Silverman published by The New Republic, Saudi Arabia, in contrast to its declared image as reform-minded country gradually opening up to world, is worsening its human rights situation, according to activists and family members of imprisoned dissidents.
The report says it is Areej Al-Sadhan, whose brother, Abdul-Rahman,was kidnapped by Saudi security forces in 2018 on charges of running a mock Twitter account, and Areej says that Saudi Arabia is repressing more than ever, and the security forces are ruthlessly pursuing anyone who exercises their freedom of expression.
Saudi court specialized in terrorism cases sentenced Abdul Rahman, who works in the relief field, to 20 years in prison, along with 20-year travel ban, after serving his sentence on charge of fictitious account, but Abdul Rahman violated the state's strict ban on political speech that allows authorities to arrest and sometimes torture and execute anyone who shows public opposition.
Abdul Rahman's family has had two short calls with him since his arrest in 2018, and they are afraid for his future. He has become a lesson for anyone who thinks about challenging the de facto leader of Saudi Arabia, Crown Prince Mohammed bin Salman.
The prince harassed and kidnapped critics, and even killed some of them all over world. Perhaps hideous killing of writer in "Washington Post" newspaper, "Jamal Khashoggi", is the clearest known example of Bin Salman's brutal tendencies.
"Human rights violations continue to be widespread in the Kingdom, and people should not be fooled by the recent release of (the women's rights activist) Loujain Al-Hathloul," Areej says.
Twitter platform was an arena for Saudi crackdown against dissidents. Nearly 10 million people use this platform in Saudi Arabia, making Kingdom its largest market in Middle East. Social media provided many citizens of authoritarian countries with an outlet that was previously unavailable to freely discuss societal issues.
"In Saudi Arabia, where there are no independent media, social media initially seemed to be great balancing act, but this did not last long," says Washington-based Saudi analyst.
After short month of discussion, the pro-regime trolls and surveillance appeared on Twitte, but now, Twitter, which is popular with members of Saudi royal family, just like ordinary people, is no longer place of convenience for Saudis.
Areej says: Twitter did not take any real step to preserve and protect these activists, and since then, Twitter in Saudi Arabia has become an arena for government to practice propaganda, track the ideas of opponents, and identify victims of prosecution team personally affiliated with bin Salman.
Al-Ahmad says that after exchanging some direct messages with Saud Al-Qahtani advisor to Mohammed bin Salman, someone claiming to be Al-Qahtani sent him a phishing e-mail, in an attempt to steal his login information.
Story of renewed crackdown practiced by Bin Salman against opposition on "Twitter" cannot be summarized simply in search for statements against regime on world-famous social media platform; Whereas, "Twitter" plays major role in brutal transformation that has occurred since Bin Salman's rise to power.
In June 2014, Saudi official named "Badr Al-Asaker" – toured Twitter headquarters in San Francisco USA, this tour was jointly organized by a man named Ahmed Al-Mutairi, and an employee in Twitter named Ahmed Abu Amou.
Abu Amou, who worked on media partnerships in the Middle East, was recruited to spy directly for "soldiers",during several months, Abu Amou received more than $100,000 in cash and gifts while collecting information on Saudi dissidents, journalists, and other important accounts, including e-mail addresses, phone numbers, and private messages.
In 2015, Abu Amou got new job in Amazon, but Saudi regime found good alternative in Ali Al-Zubarah engineer at Twitter, whose position and technical skills gave him greater access to user data than Abu Amou.
Soon after, Al-Zubarah became more productive spy for "soldiers" and Saudi regime; He was allegedly tracking Saudi dissidents abroad, and providing their IP address, which could reveal their location.
In December 2015, FBI agent visited Twitter's headquarters in San Francisco to tell them they had Saudi espionage problem. FBI asked Twitter to refrain from taking immediate action, but, it was reported, Twitter, which is suspected of the intentions of government security agencies, and which is known to pressure technology companies to obtain private user information, decided to confront Zubarah and his suspension from work.
Accordingly, man was transferred to Saudi Arabia with the help of military and Saudi Consul General in Los Angeles Subsequently, Al-Zubarah was appointed to the position CEO of Misk Foundation Al-Zubarah remains on FBI's most wanted list.
Saudi investors, led by Prince Al-Waleed Bin Talal, the most famous businessman in Kingdom, bought shares in giant American technology companies such as Twitter. In November 2017, Bin Talal was arrested and imprisoned in Ritz-Carlton Hotel in Riyadh as part of large-scale anti-corruption purge campaign that forced many wealthy Saudis and members of royal family to sign to bin Salman waiver of Their property.This may have included Bin Talal's stakes in Twitter's shares.
According to complaint filed by Saudi dissident residing in Canada, Omar Abdulaziz against Twitter and American consulting company McKinsey, bin Salman controlled stake in Twitter shares that exceeded what founder of platform owned.
Abdel Aziz says that McKinsey helped portray him as opponent of Saudi regime;This led to his Twitter account being hacked. (Last year, Canadian authorities warned Abdulaziz that he might be the target of Saudi killing squad.)
"Due to enormous wealth that the main figures in Saudi Arabia possess, major technology companies have enabled, cooperated, and turned blind eye to the Kingdom's efforts to suppress, torture, imprison, intimidate and kill opponents within the kingdom and around the world," Abdelaziz says.
Saudi dissidents abroad expressed similar ideas, saying that Twitter gives Saudi government great access to data, and that it bears responsibility to do more to protect its users from harassment and piracy.
"Instead using these tools (Twitter) to enable freedom expression, they are being used by dictators to suppress freedom of expression, track their personal information and target them personally," Areej says.
Ali Al-Ahmad was the target of numerous piracy and phishing attempts, some of which he discovered before they succeeded, however he stated in his lawsuit against Twitter, he believes that company failed to protect him, and more importantly, it failed to protect opponents and other sensitive personalities that he communicated with through Twitter, among them was Abd al-Rahman al-Sadhan.
More than 5 years have passed since the FBI told Twitter that it had Saudi espionage problem, and the company has since promised to tighten procedures and entry controls, but for many opponents, murderous authoritarian government abused its close relationship with Twitter to recruit spies who provided information that then led to innocent people being jailed.
Saudi government remains one of the largest external contributors to Twitter, and continues to harass and monitor its citizens through this platform.a