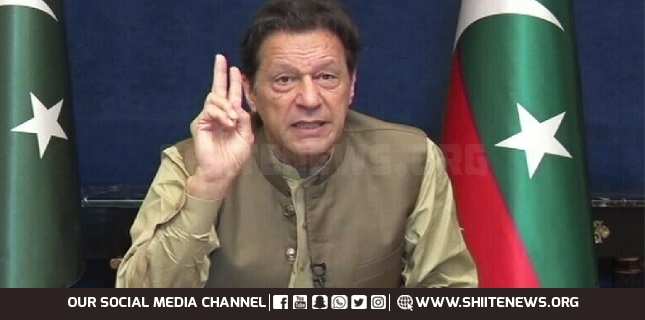 Pakistan Tehreek-e-Insaf (PTI) Chairman Imran Khan on Sunday announced that his party will hold a power show at the Minar-e-Pakistan in Lahore on Wednesday, the same venue from where he kicked off his successful 2013 election campaign.
The announcement comes a day after intense clashes broke out between the police and PTI activists as Imran's convoy reached the judicial complex in Islamabad ahead of his appearance before the district and sessions court in the Toshakhana case.
The PTI chairman's vehicle was stopped merely 100 metres from the gate of the judicial complex as police blamed party activists for blocking the route, while PTI claimed the law enforcers were restricting Imran's movement.
The former prime minister had earlier announced a rally at the Minar-e-Pakistan today but the Lahore High Court (LHC) had restrained the PTI leadership citing the ongoing law and order situation.
During an address to his supporters today, Imran said that the event would now take place on Wednesday, serving as a referendum to determine the nation's position. "Everyone will know where the nation stands and where the cabal of crooks and their handlers stand."
Imran said that the government wanted to arrest him and take him to Balochistan with the intention of preventing him from issuing election tickets to party members.
The former prime minister said that they had decided to hold a rally on March 8 and that the police had granted permission for the event on March 7. However, he added that the following day, containers were placed everywhere, which left them surprised.
He wondered how Section 144 could be imposed after the announcement of elections. "I decided to cancel the rally scheduled for March 8 at 5pm as there was a risk of chaos," he added.
Imran said that he requested to have his case shift to a session court as he feared another assassination attempt, but instead of shifting the case, they issued a warrant against him.
"Even Rana Sanaullah had warrants issued against him, but no action was taken against him. He resorted to baton-charging and teargas shelling on Zaman Park."
'Workers prepared to give their lives'
On clashes at Zaman Park on Saturday, Imran said that his workers were prepared to give their lives for him, asking him not to step out as they feared he would be killed or jailed.
"I did not ask anyone. They (workers and supporters) came along with me on their own when I went to the Lahore High Court as they feared something would happen to me."
He alleged that the government was trying to incite violence by throwing tear gas shells.
Imran said he faced difficulty in reaching the court on Saturday and that he only went to submit his attendance, adding that police fired tear gas shells even when they were outside the court.
The PTI chief said that when he reached the court's gate, he saw Rangers, police, and some unidentified people. He feared that there was a plan to assassinate him and that an atmosphere of chaos was being created so that he would step out of his car.
"There would have been bloodshed if the car had not sped out quickly during the shelling in Islamabad," he claimed.
He refuted claims that bottles of liquor, Kalashnikovs, and petrol bombs were found at his residence, saying that there was no rocket science involved in making petrol bombs. "All it takes is pouring fuel into a bottle and throwing it, and that's what a petrol bomb is," he explained.
The former prime minister said that 96 terrorism and murder cases have been fabricated against him. "Whenever I leave my house, they register more cases against me," he said.