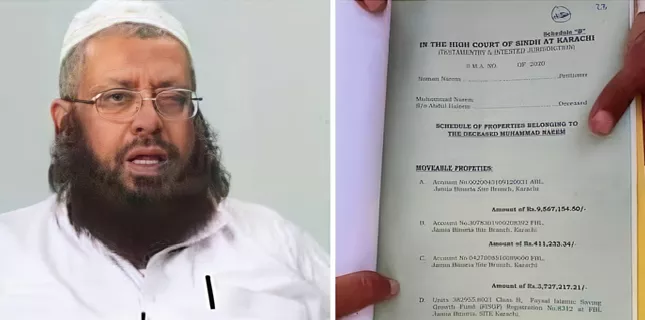 Shiite News: How much is the wealth of the late Mufti Muhammad Naeem, the eminent Deoband religious scholar, Jamia Banuria Al-Alamiya ? The Sindh High Court has officially issued this estimate, there is no more ambiguity about the money and property of late Mufti Naeem of Jamia Banuria.
There is a new discussion on social media that the son of late Mufti Naeem, a renowned scholar of Pakistan and Jamia Banuria Town Karachi, has gone to court for the distribution of his father's earnings.
The court ordered that Maulana's total income be estimated. All the judges in the court were shocked to see that Maulana's total income of 5.3427 billion (Rs. 5342700147) was in different banks.
Although Maulana precept for not to accumulate wealth, avoid interest and he also considered the world as a prison for a believer and a paradise for Satan. His sentence became viral when last year he did not buy a sacrificial animal and said "I don't have money."