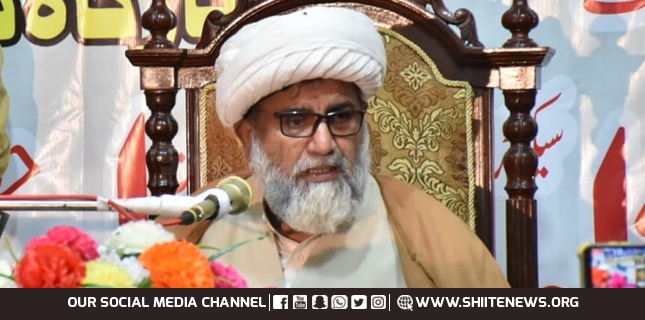 Shiite News: Chairman Majlis Wahdat Muslimin Pakistan, Allama Raja Nasir Abbas Jafari, while congratulating the believers around the world on the occasion of the birth anniversary of the Aqeel-e- Bani Hashim, Hazrat Zainab Kubra (SA), has said that women of all the fields and different walks of life should take guidance from the life of Syyeda Zainab (SA) in every aspect.
Against today's western cultural invasion, the life of Sayyida Zainab SA, is a strong shield for women.
We unable to find examples of the high qualities anywhere in history and literature as She (SA) displayed as a daughter, wife, mother, and sister.
After the tragedy of Karbala, She (SA) shook the hearts of the Yazidis by revealing their hostility to Islam at every intersection and proved that those who firmly believe in the Almighty act as a duty to tell the truth without fear or danger.
Later, following the Sunnah of his brother Imam Hussain (AS) in Karbala, he endured hardships to protect his grandfather's religion, which is impossible to capture in writing.
Chairman MWM said that there is an urgent need to act on the role of Syedda Zainab SA. Global arrogant forces are using all resources to rob the Muslim Ummah of their faith.
The new generation is being taken away from religion by the weapon of cultural invasion. A woman's job is to train her family. If women train their children following Uswa-e-Zainabi, the whole family will present the true image of Islam.
He said that if the religion of Islam is to be truly understood, then one has to get knowledge from Ahl al-Bayt AS.