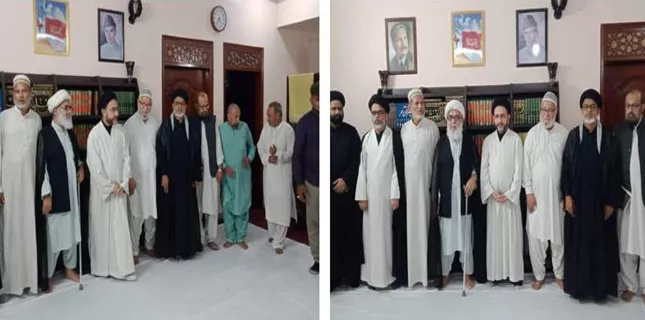 Shiite News: An important meeting of Shia scholars was held before the arrival of Chehlum-e-Imam Hussain (AS) in Karachi.
In the meeting, the current situation across the country was reviewed and a detailed discussion was held about the mourning programs on the occasion of the arrival of Chehlum Imam Hussain (AS).
During the meeting, on the last 9th of Muharram-ul-Harram, an important organization harassed the mourners in the main procession and expressed their anger and demanded action against those responsible.
It was decided in the meeting that a public awareness campaign will be conducted in this regard. The ongoing campaign for the flood victims was also discussed in the meeting and it was emphasized that there is a need to speed up the work for the relief and resettlement of the flood victims.
During the meeting, strong reservations were also expressed about the non-recovery of missing Shia people and it was demanded that if these people have committed any crime, they should be presented in the courts, otherwise they should be immediately recovered.
During the meeting, Imam Juma and the Khutaba were appealed to ask the public under the title of Chehlum Imam Hussain (AS) to participate in the main procession in maximum numbers so that the procession can be carried out with full glory.
At the end of the meeting, a special prayer was offered for the safety of Pakistan and the mourners of Imam Hussain (AS).
Allama Ghulam Abbas Raisi, Allama Sheikh Muhammad Hasan Salahuddin, Allama Shahshanshah Hussain Naqvi, Allama Nazer Abbas Taqvi, Allama Sheikh Muhammad Sadiq Jafri, Allama Razi Haider Zaidi, Allama Sadiq Raza Taqvi, Allama Haider Abbas Abidi, Allama Naeem Al Hasan Al Hussaini. Allama Ali Afzal Rizvi, Allama Sajjad Mahdavi, Allama Naqi Hashmi, Allama Sajjad Rizvi, Sabir Abu Mariam and other scholars and leaders were present.