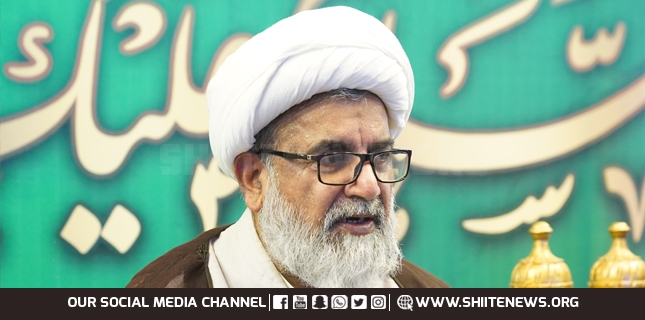 Shitte News: Chairman Majlis Wahdatul Muslimeen (MWM) Pakistan, Allama Raja Nasir Abbas Jafari has said in his message to the nation on the occasion of Independence Day that the purpose of the long, tireless and unprecedented struggle for Pakistan was to establish a state where the Muslims can live their life with full religious freedom.
An independent state whose decisions are subject to national interests, national dignity, and Islamic teachings, whose inhabitants could not be scorned for the slavery of colonialism and arrogance.
Where there is a rule of law and peace and happiness. The entire nation will have to fight unitedly to free the dear country from the shackles of Takfiri and arrogant forces.
MWM leader said that there can be no compromise on the internal sovereignty of the land of Pakistan and the supremacy of the Constitution. Those who play football with the heads of the youth of the Pakistan Army do not deserve any concession.
"It is a requirement of patriotism to give severe punishments to these national criminals under the laws of Pakistan. Forgiveness of the killers of patriots and defenders is a betrayal of the country and nation. We all have to protect our homeland together", Jaffari maintained in a press statement.
He said it is a fact that we are a nuclear power, but it is not only to be kept alive in the pages of history, but to make it clear with a solid stand on our role, actions and national issues that no power in the world dare to look at Pakistan with a disdainful eye.
He said that the unwarranted desire for a hereditary monopoly on power, political strife and the intoxication of power did not allow our beloved country to become the Pakistan of Quaid-i-Azam.
On the occasion of Independence Day, the entire nation will have to renew its commitment that those who deviate from the principles of our beloved country, Quaid-i-Azam, have no place in the country's politics, nor any place for them in the state institutions.
We have made sacrifices and we and our generations have to fight sincerely for the completion of the dreams of Quaid and Iqbal. This country will not be allowed to become a fiefdom of politicians-like businessmen.