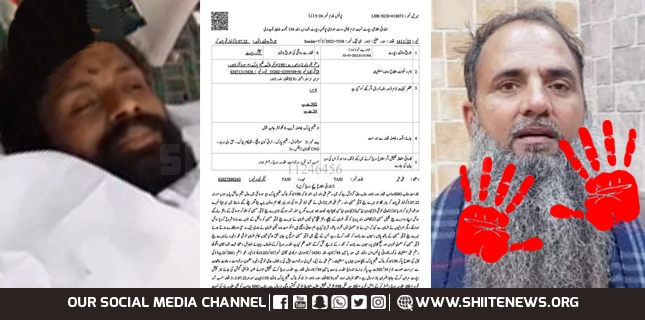 Shiite News: The main culprit who martyred a wheelbarrow laborer for the crime of chanting the slogan "Nara-e-Haidari" was arrested, a case was registered and the demand for his execution was raised by the public.
Haji Khoshi Mohammad (accursed), chairman of the society, was arrested among the three named accused who martyred 20-year-old Tauqeer Hussain in Theme Park Society on chanting the slogan 'Nara-e-Haideri'.
In the FIR registered at Sundar Lahore police station by the martyr's father Rustam Ali son of Nazir Ahmed, the police authorities were demanded that the three accused Haji Khoshi Mohammad, Society Admin Haroon and his son brutally tortured his son Tauqeer Hussain to death, so the culprits should be immediately arrested and punished.
It should be noted that this incident received a lot of attention on social media due to which users have called it the worst example of terrorism and 'Takkfiriyyat' and demanded severe punishment for the perpetrators.