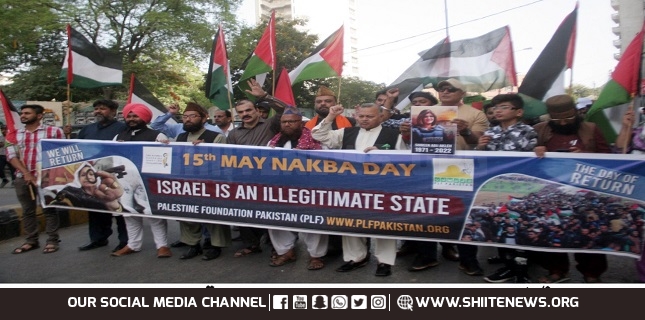 Shiite News: The Palestine Foundation Pakistan held a protest on YOM E Nakbah at Karachi Press Club.
Protest was attended by the representatives of Civil Society and Human Rights Activists. All of them Condemned 74 years long Zionist occupation on Palestine.
Participants had placards in their hands which were cited slogans against USA and Israel. They also had photos of Martyr lady journalist. At the end, Participants of the protest burned the flags of USA and Israel.
On this occasion, speakers said that Israel has been dominating Palestine for 74 years brutally, but human rights organizations and international institutions have been failed to provide justice for devastated Palestinians.
They also held responsible to Arab rulers for aggression against Palestinian who are accepting Israel nowadays.
They paid homage to Martyr Lady Journalist of Palestine, Shireen Abu Aqila.
They also Condemned visit of Pakistani Journalist, Ahmed Qureshi to Israel and meetings with Zionist leaders.
Protest was addressed by the Secretary General of PFP, Dr. Sabir Abu Maryam, Mahfooz Yar Khan, Israr Abbas, Major (Rstd.) Qamar Abbas, Yonus Boneri, Allama Qazi Ahmed Noorani, Pit Azhar Hamdani, Manooj Chuhan, Sardar Amar Singh, Sardar Anil Singh, Sardar Magam Singh, Pir Syed Ashrafi and others.