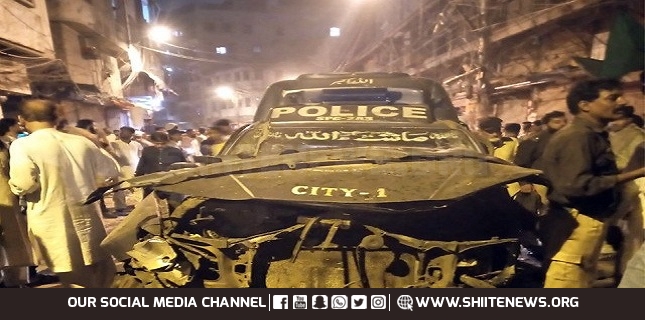 At least one woman died and 11 others sustained injuries in an explosion on Karachi's MA Jinnah road, police said on Monday.
Medical Superintendent of Civil Hospital Dr Rubina confirmed the death of the woman in the blast, saying that the condition of the four injured is critical.
According to preliminary investigation, an improvised explosive device (IED) was planted in a motorcycle to target a police vehicle.
The blast damaged a number of motorbikes, a rickshaw and a police van.
In view of the emergency situation, the bomb disposal squad personnel have also reached the blast site.
Meanwhile, Senior Counter-Terrorism Department (CTD) official Raja Umer Khattab said that ball-bearing was used in making the explosives, adding that an IED was installed on the motorcycle.
The official further said that he saw a resemblance between the explosions that took place in Saddar recently and Kharadar areas today.
The target of the blast seemed to be the police mobile that patrolled the area on a daily basis, he added.
Rescue sources said police personnel were also among the injured.
The police have cordoned off the area and further investigation is underway.
Chief Minister Murad Ali Shah has taken notice of the blast that took place in the Kharadar locality of the metropolis.
He directed the Sindh police chief to submit a detailed report on the incident and also ordered the district administration to reach the spot and carry out rescue work.
An emergency has been declared at the Civil Hospital on the order of the chief minister, the spokesperson said.
Karachi Administrator Murtaza Wahab said in a tweet that the number of injured increased to 11 while four are critically injured.
Prime Minister Shehbaz Sharif condemned the blast in Karachi and offered condolences to the family of the deceased woman and 11 injured persons.
The PM directed to immediately arrest the culprits involved in the deadly incident and assured the Sindh government of the Centre's all-out support for defeating the menace of terrorism.
"All provinces should improve security arrangements to protect the lives and property of the people," the statement quoted the premier as saying.
No group has claimed the responsibility for the blast.
On May 12, one person was killed while 13 others injured in a blast at Karachi's Saddar area.
The explosion took place in Murshid Bazaar segment of Saddar area of the metropolis. Over half a dozen cars and motorcycles, including a Pakistan Coast Guards (PCG) vehicle, were found to be damaged.
CCTV footage of the blast also showed the explosion on the busy street at 10:52 pm on Thursday night.
On April 26, four people – including three Chinese nationals – were killed in an attack by a female suicide bomber outside the Chinese language centre inside the Karachi University.