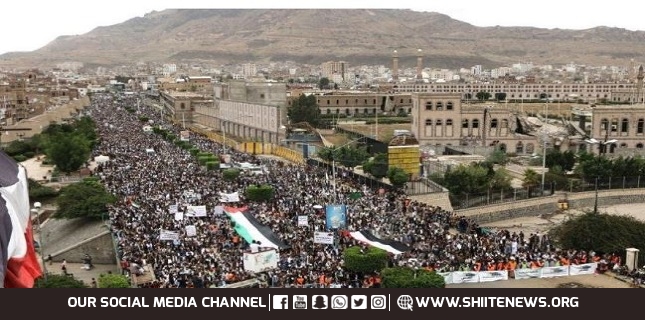 The capital and other Yemeni cities hosted a large and glorious rally on International Quds Day on Friday evening, and they called on Arab countries to support the Palestinian people in a final statement.
Imam Khomeini, the late founder of the Islamic Republic of Iran, declared the last Friday of the holy month of Ramadan as International Quds Day to survive the Palestinian issue and declare the solidarity of the world's Muslims with the Palestinians and mobilize forces to save Al-Quds from Zionist occupation.
Yemeni marchers responded to the invitation of Ansar al-Houthi leader Seyyed Abdul Malik Badruddin al-Houthi, chanting "Death to Israel" and calling on the international community to respond to the Zionist occupation and aggression on Al-Aqsa Mosque and Islamic holy sites in Palestine.
In Sanaa, the capital of Yemen, hundreds of thousands marched carrying Yemeni and Palestinian flags and chanting slogans in support of Palestine, pledging allegiance to the cause and people of the country and expressing disgust at the aggression of the occupying regime in Jerusalem. At the end of the rallies, the participants issued a joint statement reiterating their firm commitment to the Palestinian cause, noting that the Yemeni people are looking forward to playing a more active role in supporting Palestine, regardless of the aggressive policies of the Zionist regime.
The statement stressed that the Zionist regime is a serious threat to the Palestinian people and security and stability in the region. Therefore, the nations of the region must rise up responsibly and responsibly to continue the domination of this regime.
The statement praised the resilience of the oppressed Palestinian people against the occupation of criminal Israel, the heroic actions of the Palestinian youth in Jerusalem, and the confrontation with the Zionists and settlers.