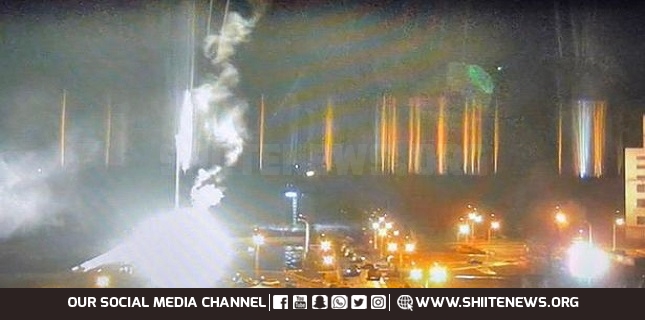 A training building outside the largest nuclear power plant in Europe has caught fire during intense fighting between Russian and Ukrainian forces, Ukraine's state emergency service says.
Dmytro Orlov, mayor of the nearby town of Energodar, said on his Telegram channel that the incident occurred as a result of continuous enemy shelling of buildings and units of the Zaporizhzhia nuclear power.
Ukraine's president accused Russia of resorting to "nuclear terror" and seeking to repeat the Chernobyl disaster after saying that Russian forces attacked a nuclear power plant.
In a video message released on Friday, Volodymyr Zelensky urged world leaders to prevent Europe from "dying from a nuclear disaster" after Kiev said a nuclear plant at Zaporizhzhia, an industrial city in the southeast, caught fire following a Russian attack.
"No country other than Russia has ever fired on nuclear power units," Zelensky said. "This is the first time in our history. In the history of mankind. The terrorist state now resorted to nuclear terror."
Following the incident, US Energy Secretary Jennifer Granholm said there was no indication of elevated radiation levels at the Zaporizhzhia plant, which provides more than a fifth of the total electricity generated in Ukraine.
Zelensky calls for 'immediate European action'
"These are tanks equipped with thermal imagers, so they know where they are shooting," Zelensky said of the Russian military
"If there is an explosion, it is the end of everything. The end of Europe, he said. "Only immediate European action can stop Russian troops."
Local officials said, however, that essential equipment at the station was unaffected and radiation levels were normal.
Russia has already taken control of the Chernobyl plant, about 100 km north of Kiev, which has been one of the most radioactive locations on earth since it saw an explosion in its fourth reactor in April 1986.
Financial markets in Asia spiraled out of control as early reports of the incident emerged, with stocks falling and oil prices soaring further.
Meanwhile, Ukraine's state emergency service said later on Friday that the fire has been put out.
The regional state administration said afterward that the Russian military has seized the Zaporizhzhia nuclear plant.
"Operational personnel are monitoring the condition of power units," it said on social media, quoting the Ukrainian nuclear inspectorate.
It added that efforts sought to ensure the operations were in line with safety requirements.
Top Russian general killed
As fighting intensifies in Ukraine, reports emerged that top Russian general, Major General Andrey Sukhovetsky, has been killed by a Ukrainian sniper.
Sukhovetsky, 41, was deputy commander of the 41st Combined Army of Russia's Central Military District. The highly decorated veteran commanded the 7th Airborne Assault Division in Novorossiysk for three years.
While Russia has not confirmed Sukhovetsky's death so far, one of his colleagues, Sergey Chipilyov, announced on social media the major general's death.
"With great pain, we received the tragic news about the death of our friend, Major-General Andrey Aleksandrovich Sukhovetsky, in Ukraine during a special operation," Chipilyov posted.
"We express our deepest condolences to his family."
On Wednesday, the Kremlin announced that 498 Russian soldiers had been killed and 1,597 others wounded since the beginning of Moscow's military operation in Ukraine.
However, Kiev claims Russia's army suffered around 9,000 casualties during the military conflict.
US dismisses talk of banning Russian oil
Speaking with Zelensky about the fire, US President Joe Biden urged Russia to stop its military activities around the nuclear power plant and to allow in emergency services.
According to the White House, the two leaders urged Russia to "cease its military activities in the area and allow firefighters and emergency responders to access the site."
The White House also dismissed the idea of banning Russian oil imports due to the fact that it could further spike the already high price of gas for the American people.
"We don't have a strategic interest in reducing the global supply of energy," White House press secretary Jen Psaki said on Thursday. "And that would raise prices at the gas pump for the American people, around the world, because it would reduce the supply available."
"And it's as simple as: Less supply raises prices. And that is certainly a big factor for the president in this — at this moment," she added.
US senator calls for Putin's assassination
Hawkish US Senator Lindsey Graham has publicly called for "somebody in Russia" to assassinate Russian President Vladimir Putin to put an end to the Russian-Ukrainian conflict.
"How does this end? Somebody in Russia has to step up to the plate… and take this guy out," the senator told conservative Fox News TV host Sean Hannity.
He later repeated the call in a series of tweets, saying, "The only people who can fix this are the Russian people. Easy to say, hard to do."
"Is there a Brutus in Russia? Is there a more successful Colonel Stauffenberg in the Russian military?" he asked, referring to one of Roman ruler Julius Caesar's assassins and a German army officer known for his failed attempt to assassinate Adolf Hitler, respectively.
Graham, who called on Israel to assassinate more Iranian scientists last months, went on to say that "the only way this ends is for somebody in Russia to take this guy out. You would be doing your country – and the world – a great service."