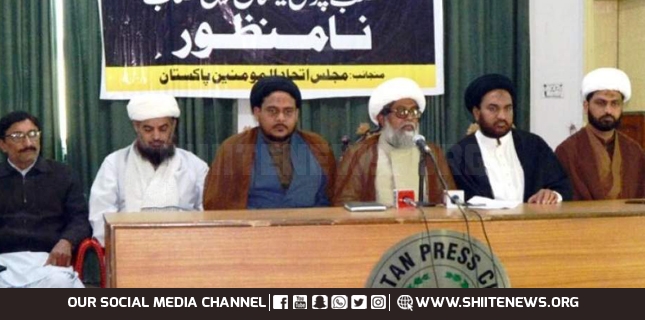 Shiite News: The Central Secretary General of Majlis Etihad Al Momineen (MEM) Pakistan, Allama Ghulam Mustafa Ansari along with the Secretary-General MWM South Punjab, Allama Syed Iqtidar Hussain Naqvi and other Shia elders of Multan Region has rejected newly introduced Uniform National Curriculum (UNC) without any reservation.
They said that new curriculum teaches Anti-Ahle-Bait (AS) syllabus, which injustice with upcoming Shia generation.
They also pointed out that UNC is without Darud-e-Pak, the topics of Caliph of Islam Hazrat Ali (AS), Battle of Badar, Khandak, and Karbala, which is a conspiracy with the Muslim of Pakistan. This act of the State has urged deep concern among the entire Shia Community of the Country, which constitute 600 million population of beloved homeland. They expressed such view while a joint press conference at the Multan Press Club.
They also warned the high-ups of the State that if the rulers have any clumsy plan to sabotage the National Curriculum then entire Shia community will be compelled to come out in protest for this issue.