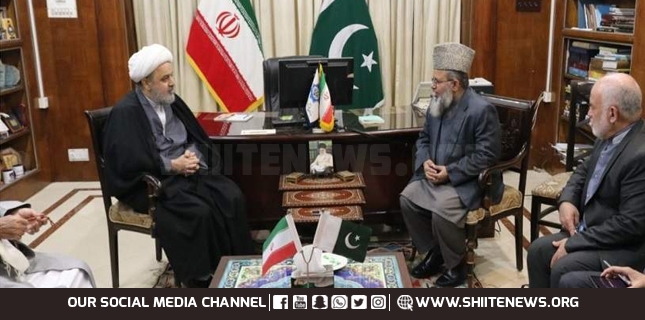 Shiite News: The Secretary-e-General of World Islamic Religions Conference, Ayatollah Dr. Hameed Shaharyari met with the Principal of Jamia Naeemia at Iranian Council. Both leaders discussed Political, Economic, and Cultural challenges that are being faced by the Islamic World.
On this occasion, Dr. Shaharyari urged the need to eliminate poverty and ignorance from the Islamic World. He added that the enemy is very clever and trapping the Muslim with simplicity. To root out sectarianism and extremism from the Islamic society, therefore, joint efforts at regional and international levels are needed.
At the end of the meeting, Dr. Shaharyari presented a memorable shield to Allama Dr. Raghib Hussain Naeemi and also invited Iran to participate in World Islamic Unity Conference.
Dr. Naeemi said that the takfiri mindset damaged the Islamic Society up to an irrecoverable extend, different sects are the representatives of Islam among other religions, so we would have to accept others' existence and identity.