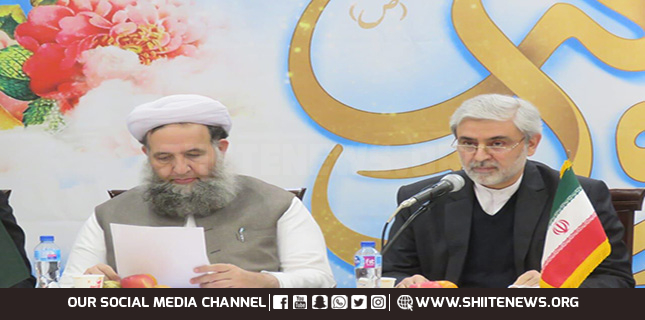 Iran Ambassador asks Pakistani Muslims to follow Prophet Mohammad (PBUH) and join hands to confront evil anti Islam strategy of enemies.
Seyyed Mohammad Ali Hosseini especially asked the scholars and intellectuals of the Islamic world, must confront the evil anti-Islam strategy through unity.
Iran Ambassador asks Pakistani Muslims to follow Prophet Mohammad (PBUH)
In this regard, he emphasized the need for spreading the message of Mab'ath (for which God appointed Mohammad as His Prophet).
He expressed these views at a gathering held to celebrate Eid al-Mab'ath at the Embassy of the Islamic Republic of Iran in Islamabad.
Ambassador Hosseini congratulated the Muslims of the world especially the people of Pakistan and the scholars on the auspicious occasion.
On Rajab 7, Muslims celebrate Eid-e-Mab'as (formal announcement of appointment of Mohammad-PBUH as God's last Prophet).
Meanwhile, Ambassador of Iran said that today, more than ever, humanity has distanced itself from the main goals of Prophets and has drowned in modern ignorance, immorality, captivity to lust, hypocrisy and irrationality.
He said that due to that, people of the present age, in spite of amazing scientific and industrial progress are suffering from endless suffering and deep wounds ruthlessly.
Besides, people are also wandering in all directions to find a cure for their hidden and obvious pains.
Furthermore, he said Hazrat Muhammad (Peace be upon Him) has always focused on humanity and the liberation of human beings from the captivity of ignorance.
Hosseini said that even today, the explicit enmity of the oppressive system of domination and the international Zionist media is trying to paint a distorted and ugly image of the Holy Prophet (PBUH).
He emphasized this ominous phenomenon doubles the duty of the Muslims, especially the proclaimed and educated scholars of the Islamic world, to confront the evil strategy.
The ambassador said the members of the Muslim Ummah should follow the teachings of the Holy Prophet to be aware and enlightened, and rely on Allah Almighty to be successful.