Yemen
Saudi-backed militants plan siege of Hudaydah despite intl. warnings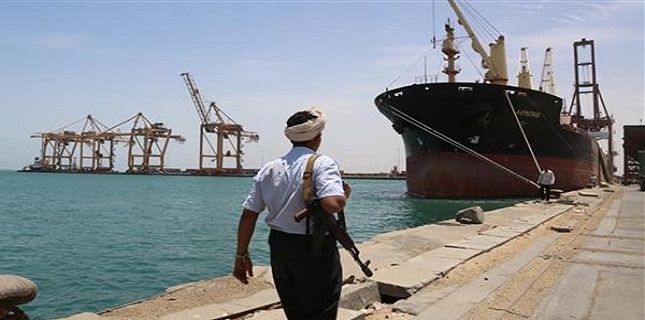 Saudi-backed militants in Yemen are reportedly preparing to lay a siege to Hudaydah despite UN warnings against any attempt to seize the key Red Sea port, which serves as the main conduit for humanitarian aid flow into the war-torn country.
Military sources said Wednesday that forces loyal to Yemen's former Saudi-backed president, Abd Rabbuh Mansur Hadi, were sending reinforcements ahead of a "new operation" to enter Hudaydah city and seize its port, a vital lifeline where millions of Yemenis get their food and medicine amid Saudi Arabia's all-out blockade of the country.
The city is controlled by Yemen's popular Houthi Ansarullah movement, which has been both running state affairs and defending the country in the face of the deadly Saudi-led military campaign.
Colonel Sadiq Duwaid, from the Saudi-led forces, who will be taking part in the operation, said it was "being bolstered by new forces… that will take part in retaking Hudaydah."
"First, we will cut off supply lines, especially between [the capital] Sana'a and Hudaydah, then we will place the Houthis under siege," he said.
Meanwhile, Ansarullah fighters and their allied forces have stepped up their counter-attacks against the Saudi-backed militants.
On Wednesday, they destroyed the military vehicles belonging to the Saudi mercenaries.
Yemeni media also say people from other provinces are rushing to Hudaydeh to help the locals and Houthi forces foil militant attempts to enter the city.
Clashes were reported between the militants and Ansarullah fighters east of the port city, while the Saudi-led coalition carried out numerous airstrikes on Houthi positions.
Fatalities were reported on both sides of the conflict.
Riyadh claims that Yemen's Ansarullah movement uses the port for weapons delivery.
UN Secretary-General's spokesperson Stephane Dujarric on Tuesday voiced grave concern over militant attempts to attack the strategic city, saying "increased fighting would unleash even more internally displaced people."
Amnesty International also said intense fighting near the port of Hudaydah had displaced tens of thousands of people, warning against the spread of clashes to urban areas.
The US-backed coalition once sought to overrun the port last year, but backed off apparently amid international pressure, with the UN warning that the port's seizure would have a "catastrophic" impact.
Abdul Malik Badreddin al-Houthi, Ansarullah's leader, has warned Saudi Arabia and its allies against further escalation in the city.
"The decision of invading the Yemeni western coast has been taken and adopted by the United States of America," he added. "Those who bet on the support of foreign forces will never reach satisfied results."
Saudi Arabia and its allies launched the war on Yemen in March 2015 in support of the country's former Riyadh-friendly government. The Yemeni Ministry of Human Rights announced in a statement on March 25 that the Saudi-led war had left 600,000 civilians dead and injured until then.
According to United Nations figures, a record 22.2 million people in Yemen are in need of food aid, including 8.4 million threatened by severe hunger.