Yemen
Yemen president says 'no' to war with Shia Muslims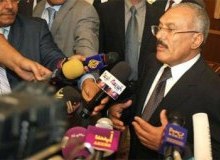 Yemen's President Ali Abdullah Saleh said Sunday he did not want another war with Shiite in northern Yemen, after a week of clashes reportedly killed at least 70 people.
"Peace, security and stability are the choice of the state," Saleh said at  a military ceremony.
"I say no to another war" with the Shiite Huthis, Saleh added.
His remarks came a day after tribal mediators succeeded to halt fighting between the Huthis and the army-backed tribe of Bin Aziz. At least 70 people were killed in those clashes and related fighting.
"Stop jeopardising the security and stability of the province of Saada," Saleh said.
After six rounds of fighting between government forces and the Huthis, Saleh earlier this month ruled out another conflict with the Shias.
Both sides have repeatedly accused the other of violating the February ceasefire.