Yemen
Three Houthi Shia killed in Yemen clashes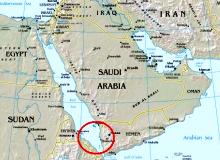 Media reports say a score of people have been killed in north Yemen as fresh clashes break out between Houthi fighters and army-backed tribes in the troubled region.
"Violent clashes took place overnight between Houthis and Bin Aziz tribes… leaving 20 dead from both sides," AFP quoted a Yemeni official  as saying in Thursday.
Yemeni army forces deployed in the area intervened to break up the fighting, he added.
Contacted by Press TV, a Houthi spokesman, however, denied the death toll, saying only three Shia fighters were killed in the fighting.
He acknowledged that members of tribes loyal to the central government had been killed in clashes with the Houthis, but dismissed claims that the Shia fighters had ambushed them.
The spokesman blamed the recent clashes in the area on the Yemeni army, saying the Houthis first came under attack by government forces.
Last year, the northern Yemeni province of Sa'ada and and nearby areas were the scene of bloody clashes between Houthi fighters and Saudi-backed Yemeni forces.
The Houthis agreed to a truce after Saudi troops withdrew in early 2010.