Yemen
180 Saudi Backed Terrorists Killed in Yemeni Forces Missile Attack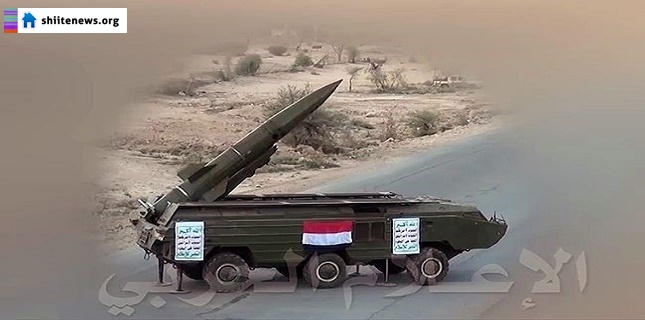 Yemeni Army and popular forces have targeted Saudi backed terrorists in Marib province, killing 180 terrorists and mercenaries and their Senior commanders by Tochka and Qaher-I ballistic missiles.
Yemen's Tochka ballistic missiles hit the Saudi army's gathering centers in Jizan province today. The Yemeni forces also fired a Qaher-I missile at Saudi forces' bases in Najran on Friday.
Yemen's Tochka ballistic missile also hit the pro-Hadi forces' positions in Ma'rib earlier today. The missile attacks came in response to the violation of truce by the Saudi bomb strikes.
On Tuesday, the Yemeni missiles destroyed the command center of Saudi border guards in Asir province. Meantime, the Yemeni missiles hit the Saudi governmental buildings in al-Rabou'a region of Asir province.
The Yemeni army also fired 52 rockets at the border regions of Alab, al-Sheibani, al-Hazar and al-Thurein in Asir province. On Monday, Yemeni forces hit Jizan airport in Southern Saudi Arabia with their new surface-to-surface ballistic missiles.
"The Qaher-I missile precisely hit the target, the Jizan airport; the third such missile used in the past 24 hours to target military positions in Southern Saudi Arabia," Yemeni military sources told FNA.
The first Qaher-I ballistic missiles targeted Khalid bin Abdulaziz air base in Asir province in Southwestern Saudi Arabia on Sunday.
The second ballistic missile hit the Saudi-led coalition's command headquarters in Sha'ab al-Jen region near Bab al-Mandeb in Ta'iz province. Over 150 coalition servicemen, including 23 Saudi troops, 9 UAE officers and soldiers, seven Moroccan officers and 42 Blackwater troops were killed in the second attack.
Qaher-I is an updated version of a Russian-made surface-to-surface missile.
"The burnt bodies of 146 Saudi-led military troops have been transferred to the city of Aden and Saudi Arabia has sent a warship to Ta'iz to transfer the wounded from Bab al-Mandeb region."
The Saudi-led forces sustained heavy casualties in the Yemeni army's missile attack on the Bab al-Mandeb region in Southwestern Yemen.
Last Friday, the Yemeni army and popular forces conducted several retaliatory attacks against key military bases and positions in two Saudi provinces, inflicting heavy losses on the kingdom's forces.
Yemeni forces fired 13 missiles at al-Jamarak region in the Saudi province of Jizan, killing at least two Saudi military men.
On December 9, the Yemeni forces launched missile attacks on the Saudi military bases in Jizan province with their new home-made missiles named 'Cry'.
The Yemeni missiles destroyed al-Ain al-Harreh and al-Salah military bases in Jizan province, inflicting heavy losses on the Saudi army.The Yemeni army and popular forces also hit al-Ramzeh military center in Jizan province, killing tens of Saudi military men and their vehicles.
The Yemeni forces also hit several Saudi military centers in the Southern parts of Al-Khuba region.
On December 5, the Yemeni army and popular forces destroyed a large number of military posts and centers in three provinces in Southern Saudi Arabia.
The Yemeni forces' missile and artillery fire has destroyed tens of Saudi military sites in Najran, Jizan and Asir provinces in the last three days. A large number of Saudi troops have been killed and many more wounded in the Yemeni forces' retaliatory attacks on their positions.
Also on December 5, FNA dispatches said that the Yemeni army and popular forces continued their nonstop advances on the Saudi soil and seized several military bases and sites in Saudi Arabia's Southern provinces after heavy clashes with the kingdom's troops.
The Yemeni forces captured a number of Saudi military bases in Jizan province, Yemeni Army Commander Ebrahim Moussa al-Hamdani told FNA.
Al-Hamdani noted that the army and popular forces also seized the Riyadh government's strategic military positions in Najran province after several hours of clashes with the Saudi forces, seizing heavy machinery and a large cache of weapons and military tools, including mortar-launchers; Fars News reported.