Yemen
Ansarullah Hackers Take Down Alhayat Pro Saudi News Website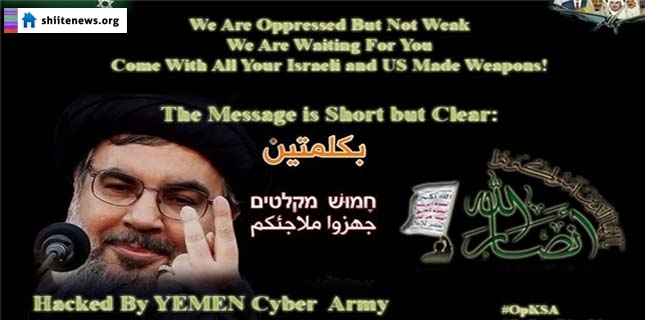 A newly emerged group of Yemeni hackers attacked the pro-Saudi news website, AlHayat, on Monday in protest at the Riyadh's invasion of Yemen.
The group that has introduced itself as "Yemen Cyber Army" hacked AlHayat.com "to support Yemen revolution", according to a statement left on AlHayat's website which also shows a photo of the Lebanese Hezbollah leader, Seyed Hassan Nasrallah.
The group said the cyberattack on the pro-Saudi paper was codenamed OpSaudi, and added in their message, which was apparently addressed to the "Saudi Dictators" that "we are oppressed, but not weak; we are waiting for you. Come with all your Israeli and US made weapons!"
"The message is short but clear: Prepare Your Hideaway," it added.
The hackers said they leaked the names of All Alhayat users and subscribers "to warn all Pro-Saudi or pan-Arabs
accept Yemen Revolution and join us against your dictators".